Youth group distributes food, gains city and National Guard support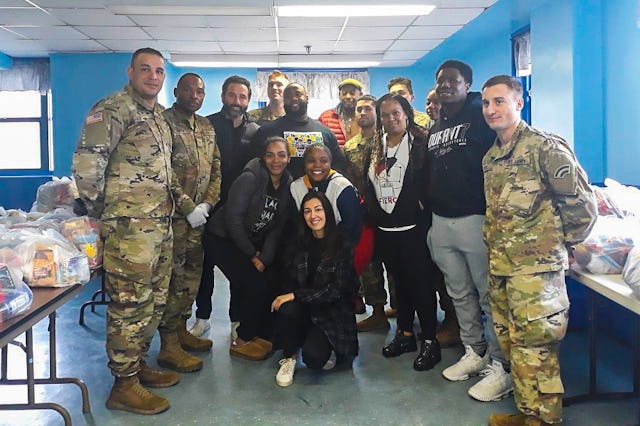 NEW ROCHELLE, New York — When the effects of the coronavirus disease (COVID-19) began causing disruptions to life in their neighborhood, a group of youth quickly turned their attention to pressing needs arising from school closures. In this suburb of New York City, these youth have been studying and serving together in Baha'i activities that develop their capacities for service to society.
As schools shut two weeks ago, many children were left without an important source of daily meals. While official arrangements for food distribution would soon be in place, the group of youth realized that the friendships and experience they had collectively developed through community-building initiatives, including food distribution efforts, would allow them to organize an immediate response in the interim.
"These youth have been learning about their spiritual development within a community, and about the strength that comes from facing a difficult situation together" says Timothy McKnight, a resident and community organizer in the neighborhood.
"In these times," Mr. McKnight continues, "they have the volition to say 'Our service to our community doesn't stop, it adapts.' It's now about making sure people are doing well and trying to help out in the best way we can when we have to keep our distance and prevent spreading the disease."
The night that school closures were announced, the youth contacted the board of education and spoke to various vendors in the area, who agreed to donate meals. They arranged for the community room in their apartment complex to be made available as a distribution point, with measures to ensure physical distancing and sanitation.
The board of education informed families, and they were able to pick up hot meals the next day. This gave children access to good food at home while minimizing contact.
"Because the youth were nimble and had the latitude to take action within their neighborhood," says Nima Yousefian, who works with this group of youth in their activities, "they were able to be initial responders in a crisis, complementing the government response."
The actions of the group caught the attention of city officials. On the second day of school closures, the arrangement they had set up was adopted as an official food distribution point staffed by the state's National Guard.
"There is obviously a very long way to go in this situation," says Mr. Yousefian, "and the city will have countless needs during the crisis. But the youth are continuing to think about what they can do to help."