For bicentenary, Shrine of the Bab opens to thousands of visitors, community leaders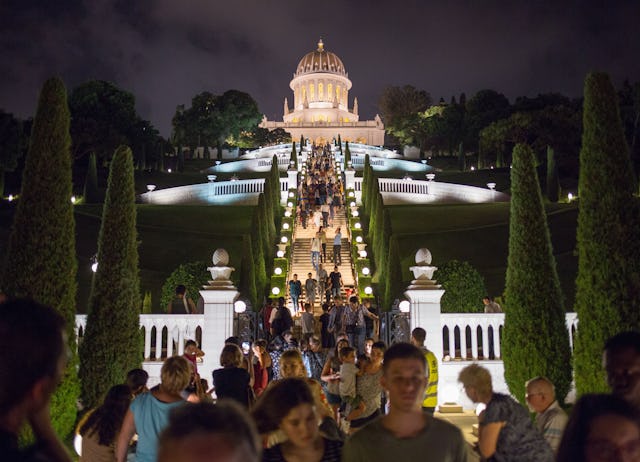 BAHA'I WORLD CENTRE — Terraces cascading down the mountainside were illuminated as thousands of residents of Haifa and surrounding cities and villages walked through the Baha'i gardens at night. At the midpoint of the terraces, the iconic Shrine of the Bab beamed brightly as a symbol of hope and peace.
This two-night special program was attended by more than 16,000 people earlier this month, and today community leaders from Haifa participated in a more intimate gathering that included a walk down the terraces to the sacred Shrine.
Around the world, people are preparing for the bicentenary of the birth of the Bab. To mark that historic anniversary at the Baha'i World Centre, the gates to the terraces on Mt. Carmel, normally open to the public only in the daytime, were opened on two evenings, 16 and 17 October. People from all walks of life—among them Jews, Christians, Muslims, and Druze—attended the special occasion. Haifa, home to the Shrine and terraces, is known for its long history of communal harmony.
Visitors had the opportunity to inquire about the Baha'i Faith, its history, and the bicentenary as they walked the terraces and entered the magnificent domed Shrine, where the remains of the Prophet-Herald of the Baha'i Faith have been laid to rest. Many also entered the Shrine to pray and meditate.
Around the Shrine, the evening was characterized by a spirit of reverence, as children and adults silently entered to pray. Many expressed deep spiritual feelings inside the Shrine.
"All I can say is that it is as if this place is like a piece of heaven. It's like God has taken a piece of heaven and dropped it here," said one resident who lives near the terraces.
"I wish I could stay on the terraces for the whole night," expressed another visitor.
"One more time! One more time!" a four-year-old girl insisted to her parents after another visit to the Shrine.
Today, commemorations continued with a reception that hosted 200 people, among them Haifa Mayor Einat Kalisch-Rotem, public servants, university officials, and civil society actors. The program included a film about the life of the Bab and remarks by the Secretary-General of the Baha'i International Community in Haifa.
After the reception, participants walked down the terraces from the top of the mountain, ending their journey at the Shrine.