Power of history: the pursuit of truth, justice, and unity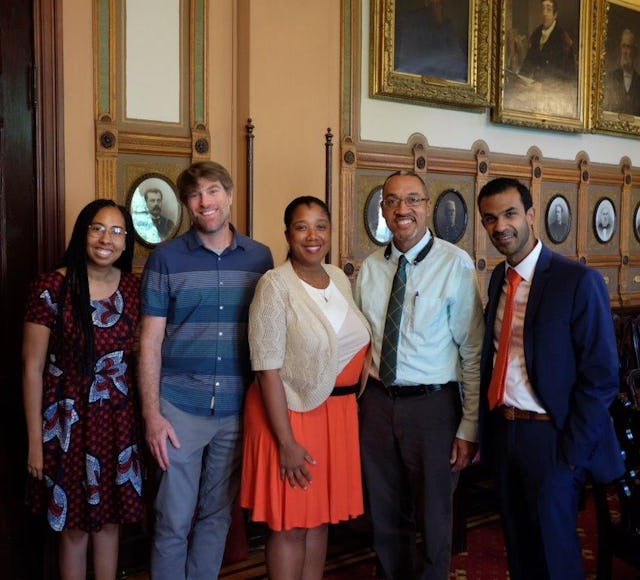 WASHINGTON — Our common story is a powerful means through which we come to understand our history, our present, and our future. In the United States, the lives, suffering, and contributions of the enslaved people from Africa and their descendants have historically been overlooked in the nation's narrative of progress and prosperity.
On Wednesday, a number of organizations gathered at Georgetown University's Slavery Archive in Washington, D.C., to have an intimate, profound discussion on this critical topic and to explore how a renewed national narrative can contribute to racial reconciliation and, ultimately, the transformation of society. The U.S. Baha'i Office of Public Affairs (OPA) organized the space with Georgetown University's Slavery Archive and the Maryland State Archives.
"So much of where we are in the U.S. in terms of race and racism has to do with our history. And so much of that history remains untold and, not only untold but also distorted, to hide the truth of what has happened," says May Lample from the OPA.
"In order to address inequality and racism in the U.S., we have to start to tell the story of how we got here. But the challenge before us is to tell that story in a way that is not divisive and that allows us to see history as progressive. At the same time we need to acknowledge that there are many setbacks, forces of disintegration and forces of integration. There are challenges on the road to progress."
The U.S. Baha'i Office of Public Affairs (OPA) has been intensively engaged in a discourse on race unity, participating in numerous forums across the country, engaging various social actors, and organizing spaces for dialogue that can inform understanding and constructive action. One of its ongoing initiatives has been its Faith and Race Dialogues, in which it has brought together faith based organizations to explore the role that religion and spirituality bring to overcoming the bane of racism.
Some of the participants from the Faith and Race Dialogues began to explore together the impact of America's history on racial dynamics in the country today. Their meeting was held at Georgetown University in the U.S. capital city and included an exhibition of some items from the school's slavery archive. The university established the archive in 2016 to properly organize and curate material related to its owning and eventual sale of 272 enslaved men, women, and children in 1838.
Several descendants of enslaved people attended the gathering, highlighting the importance of giving voice to the thousands who were enslaved and whose stories have never been told. The university has tried to make their stories known through archival materials, artifacts, and oral histories passed down from generation to generation.
"The conversation explored the question of how to repair the harm that has been done," explained P.J. Andrews, from the OPA. "We think of these problems as being in the past, but these systems and values continue to perpetuate themselves."
"Still, we also know that things are not fated to always be this way. We are not just powerless in the face of history and social forces that continue to assail society today. We are hopeful, and we all as human beings have agency to build the world anew. The history of the human race also shows that."