Communities feel spiritual impulse of pilgrimage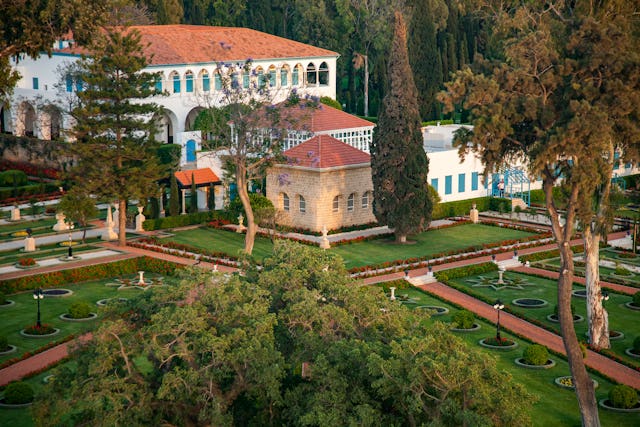 BAHA'I WORLD CENTRE — Many have waited a lifetime for this moment. Before them are swaying cypresses and towering eucalyptus trees that stand guard, red geraniums that cascade along the terrace to the east, precisely groomed lawns and hedges that symbolize striving for perfection, and flowering jasmine shrubs that welcome the newly arrived pilgrims as they make their way along the smooth pebble pathway on their first visit to the Shrine of Baha'u'llah.
Inside, they pray silently and pilgrimage begins.
For a century and a half, people have been making Baha'i pilgrimage to the Holy Land. In the early days, pilgrims would visit Baha'u'llah in person, often traveling great distances by foot; after the passing of Baha'u'llah in 1892, pilgrimage consisted of visiting His Shrine and, once it was finally constructed, the Shrine of the Bab.
"Pilgrimage is a story of love. You love Baha'u'llah and you come to see where He revealed many of His significant writings, you see where He lived, you see His personal items—the history comes alive," said Taraneh Rafati, who, as a pilgrim guide, accompanies pilgrims during their visits to the Baha'i Holy Places in the Akka-Haifa area.
Today, thousands of people each year, representing the diversity of humanity, make Baha'i pilgrimage. Many who undertake this sacred act sacrificially save money for years or decades to journey to the Holy Land.
The process of traveling to revered locations that form part of one's spiritual heritage is common to the world's religious traditions. Baha'i pilgrimage represents a period of reflection and renewal, of deep meditation and prayer, and of transformation. Its fundamental purpose is for the pilgrim to visit the sacred Shrines of the Bab and Baha'u'llah. During the nine-day program, pilgrims also have an opportunity to see historical sites associated with the lives of the Central Figures of the Faith and many of the early heroines and heroes of the Cause. A special reception by the Universal House of Justice and several evening talks and presentations over the course of the nine days also enrich the pilgrims' experience.
In recent years a new program has been started in which groups of people from a single country or from a small region of a country undertake pilgrimage together. This has enabled more and more people to plan for and realize their hope of going on pilgrimage. Some of the groups come from remote and isolated parts of the world.
Many of those who make the journey note how moving it is to see the diversity of the human family engaged in an act of worship and reflection and to see people who are striving to refine themselves in order to serve humanity with ever greater dedication. Fellow pilgrims hail from every corner of the world, and they find on their pilgrimage a practical expression of oneness and unity.
"We see how people from around the world, regardless of nationality, race, and religion, can abandon all negative thoughts and actions and come together in peace," said Lala, a pilgrim from Azerbaijan.
In July, a group from Cameroon made pilgrimage together, as part of the new program. The group's interpreter, Chonwain, described how, although his primary responsibility was to translate for the French speakers in the group, he felt the profound spiritual effect of pilgrimage.
"When you accompany pilgrims at every blessed stage, when you move along with them and make every effort to help them with language, when you move in the steps of these pilgrims on their visits to the holy Shrines, your heart is here on pilgrimage," Chonwain explained.
In addition to the formal group pilgrimage program, many communities around the world are organizing themselves informally to make pilgrimage together. Recently, one such group traveled from Utrecht, Netherlands, where the members of the group work side-by-side in a dynamic Baha'i community building effort.
"We are asking ourselves how this great privilege can impact our service to the community back home," explained one of the Dutch pilgrims from the group, whose focus in the Netherlands has been working with young people in a spiritual and moral empowerment program. Two of her companions on pilgrimage were among the youth she has been studying with for three years. "Visiting the sacred Shrines with these youth has been deeply moving for me," she reflected.
A group living and engaged in community building activities in a district of Chiayi, Taiwan, recently undertook pilgrimage together. "It's like we're an extended family, traveling together and caring for each other," said Chiu, one of the pilgrims from the group. "We're a lot stronger than before."
The group included a few families with young children. Wendy, another pilgrim from the group, described how her 4-year-old son was nervous about entering one of the Shrines. "So my daughter, who is 6, says, 'Do you want your soul to grow strong like a tree? Come into the Shrine and pray with me,'" Wendy recounted.
To assist individuals and families to apply for pilgrimage online, a new website has been launched at pilgrimage.bahai.org. The site also includes a film about the sacred experience of pilgrimage.