Youth lead on development in UN Forum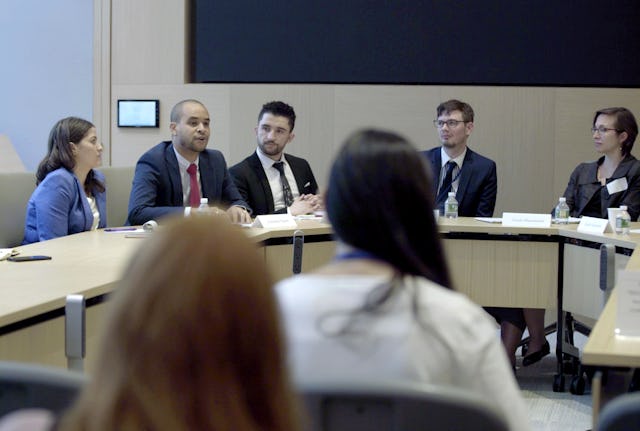 BIC NEW YORK — In a series of dynamic panel discussions organized by the Baha'i International Community (BIC), a delegation of young adults consulted about their generation's responsibility in establishing peaceful and just societies and redefining the nature of leadership and power. The context was a major annual United Nations conference held from 9 to 18 July.
How can the responsibility of working for the betterment of the world be not solely the occupation of a relative few experts and professionals but rather the right of all—an expression of what it means to be human?
This question was on the mind of Liam Stephens, a BIC delegate and panelist from the Netherlands.
"Thinking in this way allows everything we do – work, studies, family life – to move us toward a peaceful and just society. It allows us to see that everyone has a distinctive contribution to make to this work," Mr. Stephens told his fellow panelists.
BIC delegates to the UN's 2018 High Level Political Forum joined representatives from collaborating organizations in a series of BIC panels focusing on the contributions young people can make in achieving the global Sustainable Development Goals, referred to as Agenda 2030. The Forum is an annual gathering of member states of the UN and others to review progress toward the achievement of the SDGs; alongside the Forum, non-governmental organizations such as the BIC hold related events. The three panels explored the strength inherent in diversity, the construction of peaceful and resilient societies, and capacity building for the transformation of community life.
As young people participate more fully in the life of society, they begin to explore fundamental questions about how society advances and what can either foster or hinder progress. Participants in the BIC panels noted that advancing society requires building capacity for meaningful change among larger and larger numbers of people.
Discussions also focused on new approaches to leadership, based on a more constructive understanding of power and authority.
"As inherited concepts of dominance and control are left behind and the power of cooperation and unity of thought and action are embraced, capabilities inherent in youth surface and can be directed toward the common good," explained Emmanuel Zapata Caldas, a BIC delegate and panelist from Colombia.
Young people develop the capacity to identify the positive and negative forces at work in their communities; they rely on the power of consultation to make wise group decisions; and their deepest desires are to serve society selflessly, Mr. Zapata Caldas said.
Speaking to young people who aspire to lead processes of social change, panelist Upasana Chauhan, UN representative for the Man Up campaign, urged them to bring others along in the work: "A leader is not one who just races ahead him or herself alone, but the one who takes the whole group along as well," Ms. Chauhan noted. "When you are 10 steps ahead of someone else, take 15 minutes at the end of the day and take that person along to whatever situation is helping you learn and advance."
Participants also discussed the implications of the concept that humanity is like an interconnected human body, a central theme throughout the Baha'i teachings, appreciating the numerous ties of interconnection among the peoples of the world.
One young panelist from Afghanistan – Bahman Shahi, a delegate from the peace-building organization Search for Common Ground – noted the importance of such bonds in contemporary society and the future, by referring to a classic poem: "It talks about how the human being is just one body and that when any one part hurts, the whole body hurts. This is what the world needs to recognize."
Another important theme participants discussed was identity, exploring how certain conceptions of the self can create a sense of unity and oneness while other conceptions can heighten a sense of otherness and promote division. All three events in the series sought to explore how to build foundations for a sense of shared identity.
"In those essential aspects of life – in the capacity of every human being to dream, to think, to create; in the longing of every heart to find happiness, to grow, to connect with others – we are without distinction," explained Saphira Rameshfar, BIC representative and one of the organizers of the series.