Colombia Temple nears completion as dome is adorned with sacred symbol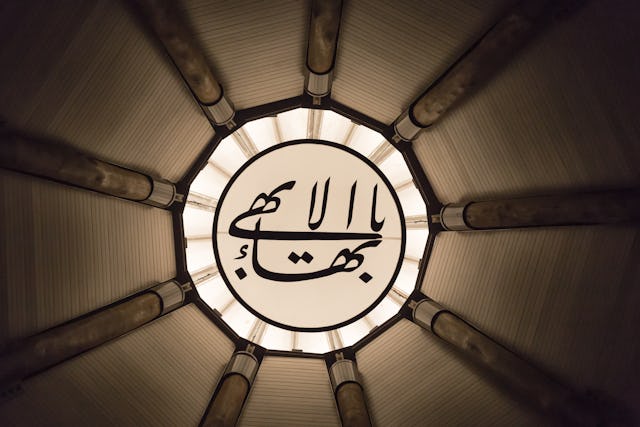 AGUA AZUL, Colombia — The sacred Baha'i symbol known as the Greatest Name was raised to the apex of the dome inside the local Baha'i House of Worship in Agua Azul, Colombia, on Friday.
A small gathering, including representatives of the Baha'i community, witnessed this significant moment, marking the near-completion of the world's second local House of Worship. Following the recitation of prayers, the carved teak Greatest Name symbol was raised 15 meters to be placed at the inner apex of the dome.
The Greatest Name is a calligraphic representation of the invocation "O Glory of the All-Glorious." A version of the symbol is placed in every Baha'i Temple. The Temple's crowning piece, which rises 18 meters, represents the blooming cocoa flower, an iconic symbol in Colombia.
In the coming weeks, an ornamental silver case filled with dust from the inner sanctuary of the Shrine of the Bab will be placed within the Temple. Also, a carpet that had been placed in the Shrine will be displayed in the Temple's reception building. These acts will represent the profound connection between this local House of Worship and the spiritual center of the Baha'i Faith.
This Temple is one of the five local Baha'i Houses of Worship whose construction was announced by the Universal House of Justice in 2012. Following the inauguration ceremony next month, the Temple will open to the public.