Oldest member of Yaran completes decade-long imprisonment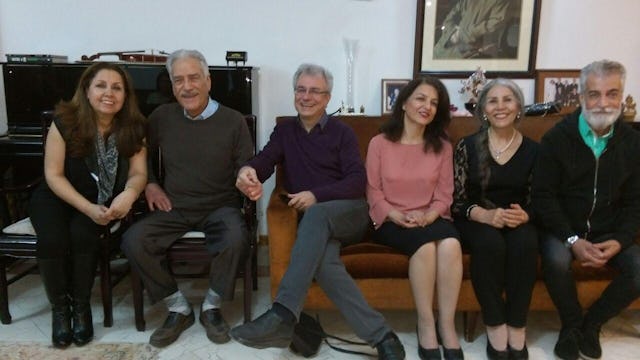 BIC NEW YORK — After a decade of unjust imprisonment and harsh treatment in Iranian prisons, Mr. Jamaloddin Khanjani, 85, completed his ten-year sentence yesterday. He is one of the seven members of the former leadership group of the Baha'is in Iran known as the Yaran, who were jailed on false and baseless charges.
Mr. Khanjani, the oldest of the seven, is the fifth to be released since September 2017. The Yaran was an ad-hoc group which tended to the basic spiritual and material needs of the Iranian Baha'i community. It was formed with the full knowledge and approval of Iranian authorities after formal Baha'i institutions were declared illegal in Iran in the 1980s.
"Mr. Khanjani and the other members of the Yaran should have never been put in prison to begin with," said Bani Dugal, the principal representative of the Baha'i International Community to the United Nations. "They not only committed no crimes, but even contributed to the betterment of their communities and their country."
Born in 1933 in the city of Sangsar, Mr. Khanjani grew up on a dairy farm and eventually started a successful charcoal production business. He eventually established the first automated brick factory in Iran, ultimately employing several hundred people. In the early 1980s after the 1979 Islamic Revolution, he was forced to shut down that factory and abandon it, putting most of his employees out of work because of the persecution he faced as a Baha'i. The factory was later confiscated by the government.
In the 1990s, Mr. Khanjani was able to establish a mechanized farm on properties owned by his family. However, the authorities placed many restrictions on him, making it difficult to do business. These restrictions extended to his children and relatives and included refusing loans, closing their places of business, limiting their business dealings, and banning travel outside the country.
"The treatment accorded to Mr. Khanjani and other members of the Yaran throughout their lives represents the treatment suffered by the entire Baha'i community for generations," said Ms. Dugal.
Iranian Baha'is continue to face the threat of arbitrary arrest and imprisonment, economic discrimination, and the denial of access to higher education. Economic-related persecution against them has particularly escalated in recent years resulting in what the Baha'i International Community has called, in an open letter to President Rouhani, an "economic apartheid against a segment of Iran's population".