Sacred symbol raised in Cambodia Temple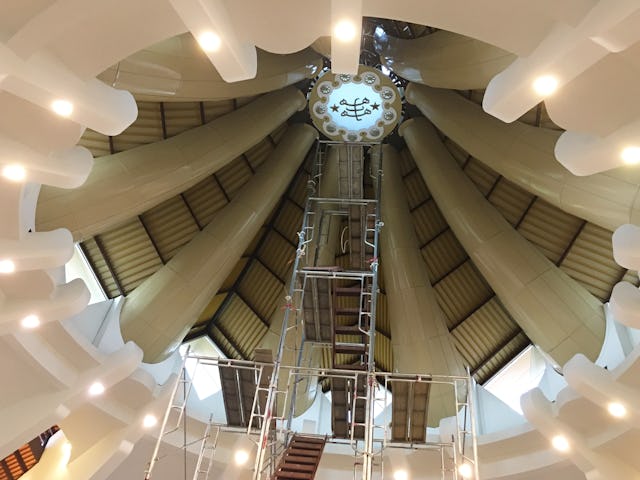 BATTAMBANG, Cambodia — Yesterday, the sacred Baha'i symbol representing the connection between God, His Manifestations, and mankind was raised within the local Baha'i House of Worship in Battambang, Cambodia, and installed at the apex of its dome.
The placement of the Greatest Name symbol marks an important milestone. The symbol is a calligraphic rendering of the word "Baha," meaning glory. The vertical line represents the Holy Spirit proceeding from God through His Manifestations to humanity, and the twin stars represent the Bab and Baha'u'llah.
Representatives and members of the Baha'i community gathered for a small ceremony on 20 August 2017 in a spirit of reverence and prayer as the sacred symbol was lifted 11.8 meters above the ground to the apex of the Temple's dome. After it was affixed in place, everyone at the Temple gathered for devotions.
In the coming days, a small ornamental case, originally purchased by Shoghi Effendi and containing dust from the inner sanctuary of the Shrine of Baha'u'llah, will be placed within the structure of the House of Worship. It will symbolize the profound spiritual connection between the Temple and the center of the Baha'i Faith.
For the global Baha'i community, this first local House of Worship signals a new stage of development. The Temple will be inaugurated on 1 September 2017.