Gender equality essential for progress, says BIC in new statement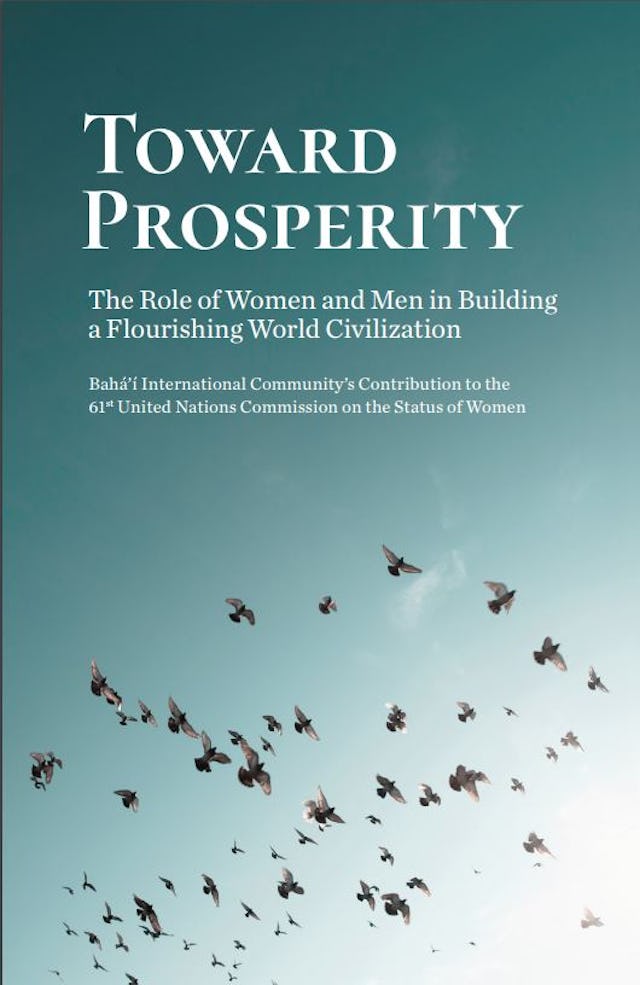 BIC NEW YORK, United States — The Baha'i International Community has released a new statement on the advancement of women and the vital relationship between gender equality and true prosperity.
The document was published in preparation for the Commission on the Status of Women to be held at the United Nations next week. The Commission is the UN's principal annual global forum for the promotion of gender equality and the empowerment of women. It promotes women's rights and shapes global standards for equality.
The BIC's statement, "Toward Prosperity: The Role of Women and Men in Building a Flourishing World Civilization", connects the equality of women and men with the advancement of society in general.
The statement explores a holistic conception of progress, calling for a vision beyond mere economic prosperity. The advancement of women must entail more than economic empowerment, argues the BIC. Women play a pivotal role in social transformation for a more just, peaceful, and equitable world when they are able to meaningfully participate in every sphere of life.
Although there have been substantial strides in gender equality over the decades, far more remains to be accomplished, states the BIC. Access to education and other important areas have greatly increased; however, systematic and structural injustice continues to suppress women's potential and serves as a major obstacle to progress.
"Until these inequalities are thoroughly uprooted from the fabric of society, humanity will remain mired in the conflict, despair, confusion, and imbalance that have come to define much of modern life," reads the statement.
Yet the publication describes the path towards prosperity, despite its many obstacles, as paved with hope.
The BIC United Nations Office New York will explore these issues during the Commission, which will take place from 13-24 March. Information about the sessions the BIC will host and participate in is available here.
The statement "Toward Prosperity: The Role of Women and Men in Building a Flourishing World Civilization" can be found here.