House of Worship inspires children and youth to plant for the future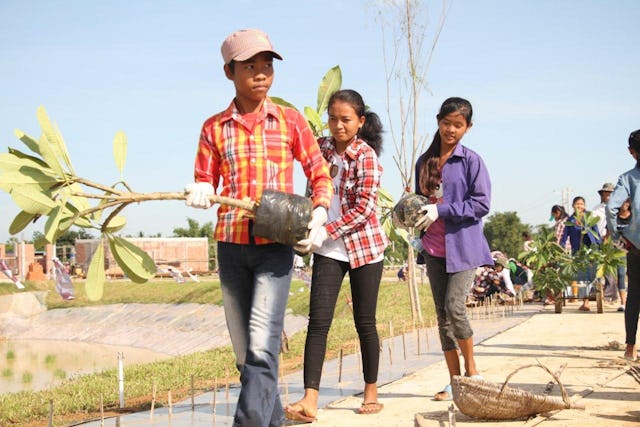 BATTAMBANG, Cambodia — For months now, scores of volunteers from nearby communities in Battambang have gathered regularly to work on the landscaping of the local Baha'i House of Worship being constructed there.
This spirit of collective service has become contagious. One sign of its spreading influence has been a welling up of enthusiasm and a wish among children to have their share in this historic development.
Neighboring communities have responded to this growing enthusiasm by organizing gardening projects at the Temple site open to children, youth, and adults of all ages.
Hundreds of volunteers have participated in the projects. They gather for prayers in the early morning and then start off a full day of gardening, planting frangipani trees and ixora shrubs on the land surrounding the rising central edifice. Some 900 plants have been transplanted onto the site.
"Now we can see the ixora and frangipanis smiling to the sunlight," said one participant, reflecting on his experience at the most recent collective gardening event. He added that he was happy to be able to help make the grounds of the Temple beautiful so others would be able to enjoy the gardens when visiting in the future. His sentiments are widespread.
Battambang is one of the first five localities worldwide that have been selected by the Universal House of Justice for the construction of a local Baha'i House of Worship. The Temple is expected to be completed by late 2017.