Anticipation rises for Chile Temple inauguration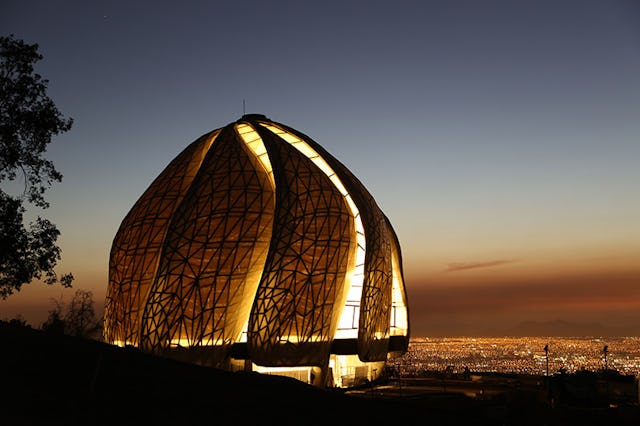 SANTIAGO, Chile — A surge of excitement and anticipation is palpable among the Baha'i community in Santiago and abroad as the inauguration of the last of the continental Baha'i Houses of Worship approaches.
The President of Chile, Michelle Bachelet, is expected to attend the opening ceremony with other dignitaries.
Growing media coverage has brought attention to the significance of this landmark, and recent articles (see here and here for examples) have highlighted the uniqueness of this sacred structure. Like all Baha'i Temples, its nine-sided design stands as a unifying symbol of the oneness of humankind. The firm behind the Temple's design, Hariri Pontarini Architects, has described it as "a Temple of light, expressing a faith of inclusion".
A feature report, produced by the Canadian Broadcasting Corporation, offers a compelling exploration of the conception and design of the Temple.
Meanwhile, the Baha'i community of Chile is preparing to welcome thousands of people for the inauguration, which will take place from 13-16 October. Representatives of indigenous populations and national Baha'i communities throughout Latin America, along with individuals and groups from nearly every other continent, will join the celebrations for the three days following the public opening.
Live video coverage of the public opening ceremony will be provided on the Baha'i World News Service website on 13 October, 14:00 GMT, for approximately 90 minutes. People around the world will be able to watch this historic event, marking the dedication of the final continental Baha'i Temple.
A video capturing the majesty of the superstructure is available here.