BIC calls on President Rouhani to end systematic economic oppression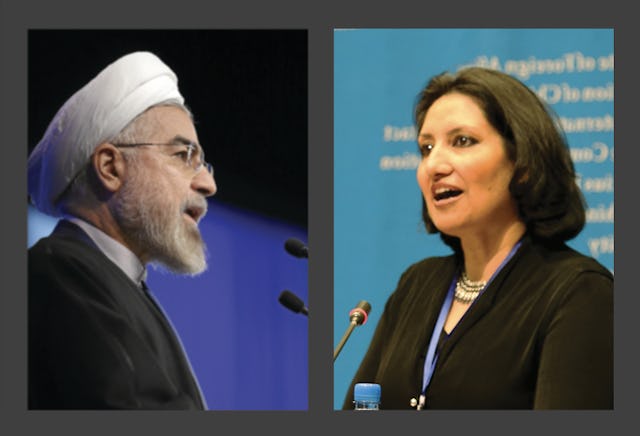 NEW YORK, United States — The Baha'i International Community has called on Iran's President, Dr Hassan Rouhani, to end the severe economic oppression imposed on the Baha'is in that country.
The call is contained in a letter addressed to President Rouhani which shows how, since the 1979 Islamic Revolution, the Baha'is in Iran have been the target of many ongoing acts of persecution, including a relentless campaign of economic strangulation which continues to the present day and shows no sign of improvement since his election.
Read the letter in Persian here
Read the letter in English here
The letter signed by Bani Dugal, Principal Representative of the Baha'i International Community to the United Nations, draws attention to the stark contradiction between statements espoused by the Iranian government regarding economic justice, equality for all and reducing unemployment on one hand, and the unrelenting efforts to impoverish a section of its own citizens on the other.
The letter highlights the ways in which this economic campaign has been waged against the Baha'is as a deliberate policy: expulsion of employees from the public sector; severe limitations in the private sector; exclusion from a wide range of trades and professions under the offensive pretext of their being religiously "unclean"; confiscation of assets; harassment of businesses; and closure of shops. Even the setting of high amounts as bail when Baha'is are arbitrarily arrested has a terrible economic effect on the community.
Beyond these, the letter also identifies the economic impact of the oppression on young Baha'is-artists, athletes and students. "The economic consequences resulting from the denial of opportunities to Baha'i youth to nourish their God-given talents are considerably more serious than many other forms of oppression", the letter states.
Referring to this systematic discrimination as "economic apartheid", the letter pointedly asks the President: "How can the deliberate policy of a government be to impoverish a section of its own society? How will those who are responsible for the financial, social, and psychological consequences of these discriminations justify what they have done? What religious or civil standard allows for a calculated exclusion of a population from participation in the economic life of its own country? How can talk of building a just and progressive society continue in the midst of such systematic injustice?"
The letter calls on President Rouhani to review urgently the situation of the Baha'is and to remedy the situation.
Recently a moving and powerful documentary produced by a few individuals in Iran that gives a glimpse of the tremendous economic suffering of the Baha'is has attracted media attention. Amnesty International, USA has posted the documentary on its Middle East and North Africa Facebook page.
A special report on the economic oppression of Iran's Baha'is published in 2015 by the Baha'i International Community can be viewed here.
(Photo of Hassan Rouhani taken from World Economic Forum, at flickr)
(Editor's note: on 8 September 2016 a correction was made to the ninth paragraph specifying that the documentary mentioned was posted on the Middle East and North Africa Facebook page of Amnesty International, USA.)