Baha'i community participates in first World Humanitarian Summit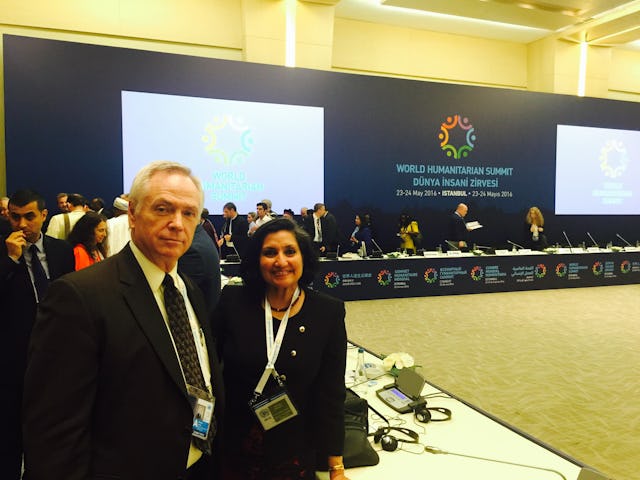 ISTANBUL, Turkey — With a rising tide of natural disasters and widespread civil unrest, the community of nations is realizing the critical need to work more closely to ensure effective responses to humanitarian crises.
This realization led to the first-ever World Humanitarian Summit, organized by the United Nations and held in Istanbul, Turkey, on 23 and 24 May 2016. The summit brought together government leaders, as well as leaders from business, aid agencies, civil society, and faith-based organizations.
"A record number of people—130 million—need aid to survive," said UN Secretary-General Ban Ki-moon during his opening remarks at the Summit. "More people have been forced from their homes than at any time since the end of the Second World War."
A statement released by the Baha'i International Community (BIC) for the occasion, titled "Rising Together: Building the Capacity to Recover from Within", draws on the experience of the Baha'i community in recent decades with community-building and responses to natural disasters. The document highlights the ongoing Baha'i efforts at the grassroots, which are focused on developing capacity in individuals, communities, and institutions in a process of social transformation that greatly enhances a community's resilience.
Commenting on the summit, Bani Dugal, representative of the BIC to the United Nations, said, "It seems critical at this juncture for the institutions and organizations engaged in disaster relief to learn how to effectively engage communities that are directly affected, to consult with them, plan with them, and learn with them."
"Ensuring that development continues after the world's attention has moved on to the next challenge is critical to the long-term prosperity of communities affected by a disaster and depends on the participation of the populations that have been affected."
"We are learning that the work of disaster relief can be unifying and bring out the strength of a community," said Steve Karnik, another representative of the BIC at the event. "Rather than viewing this work merely as a response to a natural disaster, we can understand these moments, tragic as they are, as the time for communities to marshal their material and moral resources and become stronger and more resilient for the future."
"Assuming ownership of their own development has become a foundational element of Baha'i communities' response to disasters and more broadly in social and economic development," said Mr. Karnik. "Our experience has emerged from efforts of Baha'i communities throughout the world that have suffered natural disasters. And we have learned that the stronger the pattern of collective life in a community, the greater its resilience."
Mr. Ban's opening remarks drew attention to the importance of nations coming together to address meaningfully the challenges that the rising wave of disasters in the world presents for humanity.
"A generation of young people feels that we have lost our way," he stated. "We are here to shape a different future. Today we declare: We are one humanity, with a shared responsibility. Let us resolve here and now not only to keep people alive, but to give people a chance at life in dignity."
To advance a learning process on this subject and how it and like-minded organizations can play their part, the BIC will bring together various social actors next month in its New York office to reflect on the outcomes of the summit.