UN focuses on religion to prevent violence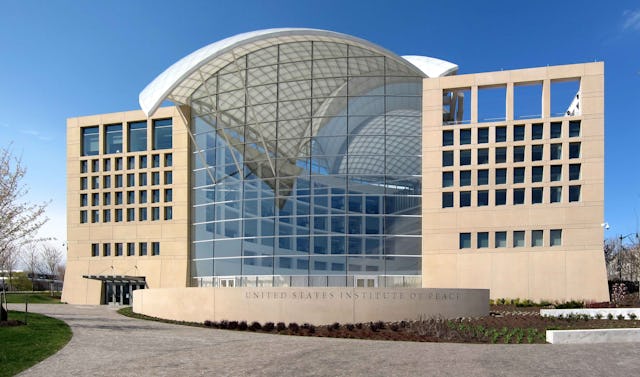 WASHINGTON, United States — Religious leaders and faith-based organizations across the world are meeting to understand their role in preventing incitement to violence that could lead to atrocity crimes.
"Religion can be key in countering this issue," said Gerald Filson, Director of Public Affairs of the Baha'i Community of Canada and Chair of the Canadian Interfaith Conversation. The Canadian Baha'i community has been vigorously engaged in a discourse in that country on the constructive role of religion in society.
Dr. Filson represented the Baha'i community in the most recent of the regional meetings organized by the United Nations Office on Genocide Prevention and the Responsibility to Protect. The forum was held at the United States Institute of Peace in Washington D.C. on 29 February to 1 March and was one of five that are taking place all over the globe during the year to explore this important theme.
In his contribution to the dialogue, Dr. Filson discussed the importance of educational programs for youth, which he explained cannot be overstated. "Youth are looking for positive messages and want to change the world for the better. Religious leaders need to give systematic focus on programs for this age group."
Present at the D.C. meeting were UN Special Advisor on the Prevention of Genocide Adama Dieng, President of the U.S. Institute for Peace Nancy Lindborg, Assistant Secretary General and UN Ombudsman John Barkat, and Representative of the World Council of Churches Rudelmar Bueno De Faria.
The diversity at the worldwide seminars has allowed for a rich exchange of experiences and the sharing of positive actions from an array of different groups. For instance, at the meeting held in Amman, Jordan, one presenter referred to the initiative of Ayatollah Abdol-Hamid Masoumi-Tehrani in Iran as "an example of a good fatwa".
Participants at each of the conferences held thus far (see Editor's note below) developed regional strategies to prevent and counter incitement to discrimination, hostility, and violence. The strategies discussed in the D.C. meeting included mapping incitement issues and trends, developing and circulating alternative messages or counter-speech that can be spread, engaging those responsible for incitement in dialogue, building education programs, seeking political support, and strengthening inter-religious activities.
"This series of meetings reflects in many ways the response called for in the Universal House of Justice's 2002 Message to Religious Leaders which asked, among other things, for religious leaders to speak out against religious extremism and accept the divine basis of all world religions," Dr. Filson said. He also noted how often speakers talked about the importance of the concepts of "one humanity" and "one God", and referred to unity, harmony of all religions, equality of women and men, and the importance of responding to hate with love.
"Comments at the meeting also seemed to indicate that religious leadership in the Americas now appears able to undertake that fundamental reorientation that can set aside long-standing religious prejudice," Dr. Filson said.
(Editor's note: On 1 April 2016, a change was made to paragraph 7 to clarify that only three of the five scheduled regional conferences have taken place.)