Words of Baha'u'llah resound through historic church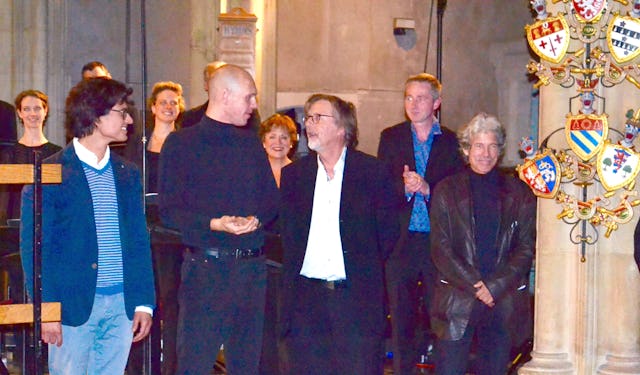 LONDON, England — The spot where St. Giles' Cripplegate church stands in the heart of the City of London has been the setting for acts of devotion towards God for more than a thousand years.
Now the words of Baha'u'llah have been added to the hymns of praise that have resonated for centuries through this special place of worship - one of the few surviving medieval churches in London.
A prayer penned by the Founder of the Baha'i Faith, set to music by Norwegian composer Lasse Thoresen, opened a programme of works—showcasing the best of European contemporary choral composing—on Wednesday 30 September, given by the acclaimed vocal ensemble, the BBC Singers.
The composer was inspired to write the piece, titled 'Mon Dieu, mon adore' after experiencing a very profound and blissful state of peacefulness while meditating.
"I just sat amazed for maybe 15 minutes," said Professor Thoresen, "and when it was over, I went immediately over to the piano and struck a few chords to try to re-create that kind of atmosphere."
He then sought out some verses from the Baha'i sacred writings that would reflect the feelings he had experienced.
"I found a prayer of Baha'u'llah which begins, 'My God, my Adored One, my King, my Desire! What tongue can voice my thanks to Thee?' And while I was composing, it seemed to sound very French in harmony. So I then looked for a French translation of the text."
The piece was composed as a part of a major commission that Prof. Thoresen received from the International Bergen Music Festival. Each of the compositions selected for the performance were drawn from a continent-wide search for choral works. In addition to Prof. Thoresen, eight other composers from five different countries were chosen.
"The BBC Singers are among the finest groups in Europe so it's a privilege to be performed by them," he said, "as well as to also have this work broadcast by the BBC."
Born in Oslo in 1949, Prof. Thoresen composed his first music at the age of 16. As his career progressed, he took a position as a professor at the Norwegian State Academy for Music. His work has been highly acclaimed in Norway and internationally.
Many of the composer's other works are also inspired by Baha'i texts.
"I take a lot of inspiration from these writings when I'm composing—especially the parts that pertain to creativity," Prof. Thoresen said.
In May 2001, Prof. Thoresen's oratorio Terraces of Light was performed on the occasion of the inauguration of the spectacular garden terraces around the Baha'i Holy Places on Mount Carmel, Haifa, Israel.