Sacred symbol placed at apex of Chile temple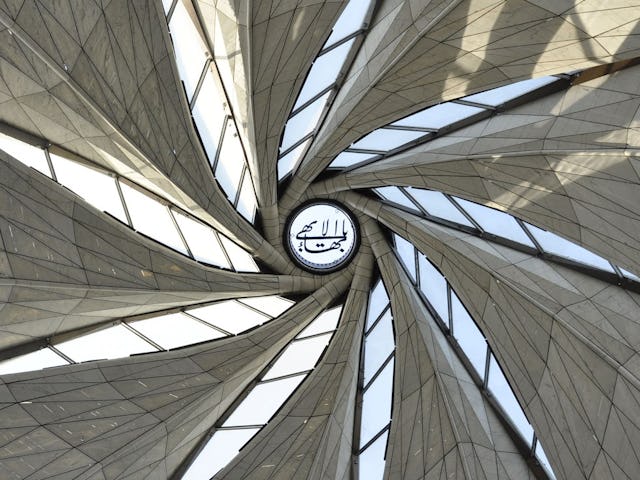 SANTIAGO, Chile — In the early morning of 29 April, just before dawn, 65 representatives of various institutions and agencies of the Baha'i community, assembled within the superstructure of the Baha'i House of Worship for South America to commemorate a charged and meaningful milestone in its construction—the placement of a Baha'i symbol at the apex of the temple.
On that special day, the ninth day of Ridvan, a calligraphic rendering of the invocation "O Glory of the All-Glorious", referred to as the Greatest Name, was lifted into position some twenty-nine meters above the ground, at the highest point of the temple's dome. As it was raised towards its destination, the voices of the choir could be heard chanting sacred verses in a joyful and reverent atmosphere.
Decades ago, the late Amatu'l-Baha Ruhiyyih Khanum—wife of the Guardian of the Baha'i Faith and Hand of the Cause of God—had prepared a small ornamental silver case containing dust collected from the inner Shrine of the Bab on Mount Carmel in the Holy Land. That silver container was placed within the heart of the wooden carving of the Greatest Name, before it was raised to its permanent spot at the apex of the House of Worship, symbolically connecting the House of Worship with the Holy Land and the spiritual center of the Baha'i Faith.
The carving of the symbol of the Greatest Name was itself a significant process, explained Mr. Samadi, the project manager for the House of Worship. Crafted out of the wood of a tree native to Chile, named roble pellin, the Greatest Name was "made with the hands and love of Chilean artisans," he stated.
Reflecting on the event, Mr. Rodriguez, member of the National Assembly of the Baha'is of Chile, stated, "This was an incredible day, marking a profoundly spiritual process which connects us with the center and essence of our Faith".