On foothills of the Andes, light ascends and inspires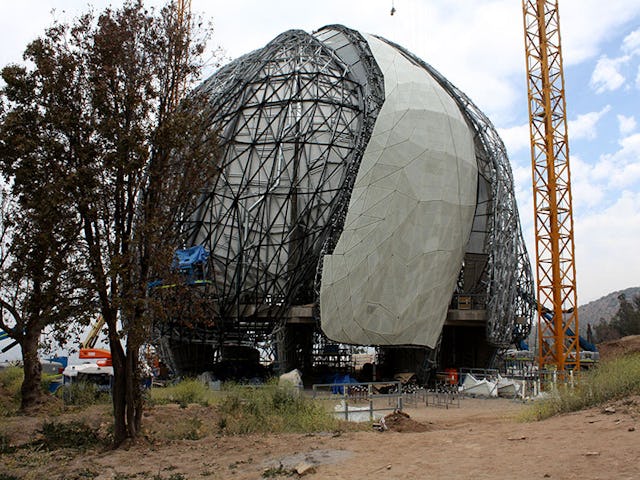 SANTIAGO, Chile — The most recent in a series of newsreels on the construction of the Baha'i House of Worship for South America has been released.
Opening with time-lapse photography, the film provides a glimpse of the emerging beauty of the temple, which rests on the foothills of the Andes Mountains overlooking the city of Santiago.
Among the developments related to the construction process, the video highlights the significant progress made on the wing-like shells that comprise the nine sides of the temple. With the steel frames of each shell now assembled, the placement of thousands of faceted cast glass panels that will form their exterior is well under way. Upon completion, the nine translucent sides will allow natural light to fill the House of Worship.
A theme that features prominently in this newsreel is the contribution of youth from around the world who have been inspired by the House of Worship to dedicate a period of their lives to serve at the temple site and in community-building activities in nearby localities.
"What I love most about the temple is that it is for everyone," says one of the youth volunteers in the video. "It's not just for a specific group of people, it's open to everybody."
In addition to the spirit of service that is animating the efforts of young volunteers, the newsreel also highlights recent events, listed below, that convey a sense of how a growing consciousness of the House of Worship is permeating the surrounding population:
● A tour was held for over 130 students from a nearby school in which participants discussed the integral role of youth in the betterment of society.
● Young Baha'is from the temple project participated in a commemoration for the Day of Youth and Solidarity in Penalolen.
● 30 civil servants from different departments in the municipality toured the temple land and learned about the Baha'i Faith and the nature and purpose of the House of Worship.
● Adolfo Ibanez University hosted a conference on the development of the House of Worship, featuring the architect, Siamak Hariri.
● For the first time, a Senator of the Republic of Chile made an official visit to the temple site.
The latest newsreel from Chile can be found here.