Outstanding collection of Baha'i literature finds permanent home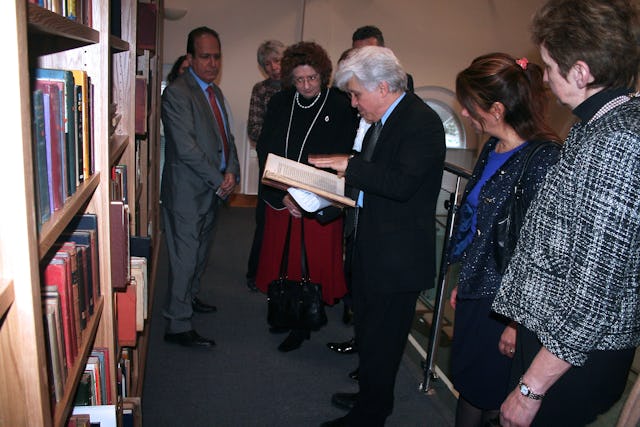 SANDY, England — An extensive library of Baha'i books and related literature has been opened to academic researchers, exactly 35 years to the day after the passing of the library's founder.
When he died in London on 12 February 1980, the distinguished scholar, historian, and writer Hasan M. Balyuzi (1908-1980) left behind an extraordinary collection of some 10,000 books, as well as a vast quantity of manuscripts, original letters, maps, documents, periodicals, and unpublished items – some of them dating back to the nineteenth century.
Mr. Balyuzi's wish was that his personal collection would be made available "for the benefit of all who seek knowledge" and – in a codicil to his will – called for the establishment of the "Afnan Library". Mr. Balyuzi was a member of the distinguished Afnan family, and was a great-grandson of a brother-in-law of The Bab (1819-1850), one of the twin Prophet-Founders of the Baha'i Faith.
"Father had a lifelong love affair with books," said Robert Balyuzi – one of the scholar's five sons, four of whom were present at the official opening of the library's permanent home.
"He loved the look of books, the feel of them, the smell of them and they were his constant companions...He regarded those books in his possession not as being owned by him, rather that they were in his temporary custody," said Mr. Balyuzi.
The Afnan Library Trust was established in 1985 to manage and further grow the collection as well as find a suitable building to house it. In April last year, the opportunity arose to purchase a dignified venue – a recently refurbished, former chapel in the small market town of Sandy, close to Cambridge.
"Since he died, we've been raising the finances and thinking about what the ideal physical arrangements should be," said Moojan Momen, one of the Afnan Library's trustees.
"We tried three different buildings in the past which all turned out not to be suitable, and now we've got this one which has all the facilities," said Dr. Momen, who was the late Mr. Balyuzi's research assistant. "So we're really very happy with this. We think this is now going to be the home of the library on a permanent basis."
The building was officially opened on 12 February 2015 by the High Sheriff of Bedfordshire, Colin Osborne.
"This building is an important part of Sandy's heritage, occupying a prominent place in the Market Square area," said Mr. Osborne. "I really am delighted that the trustees of the Afnan Library have chosen Sandy and this building in particular."
"I wish the library every success and hope that everybody that comes along finds it peaceful and tranquil, and is able to do the research they want to," Mr. Osborne concluded.
Mr. Balyuzi collected not only Baha'i literature but also texts concerning other religions, history, the Middle East, and a range of diverse subjects. Since 1980, the Library has also received bequests of books and papers from members of the Baha'i community, as well as continuing to acquire new publications to keep the collection up to date.
It is now expected that researchers will make use of the library as Mr. Balyuzi wished.
"By appointment, anyone can come who needs to have access to this sort of material," said Dr. Momen. "At the moment, it is really unique in the world because there isn't anywhere else where you can go and get access to this amount, range, and depth of Baha'i material."