Documentary film charts Iranian Baha'is' peaceful response to oppression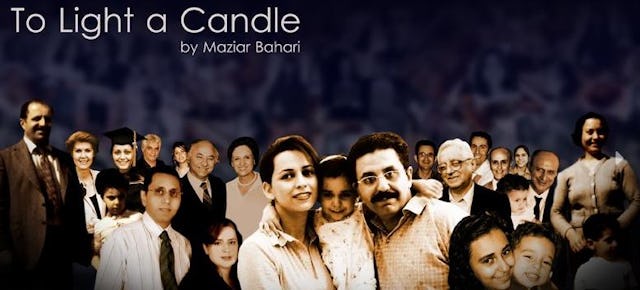 LONDON, England — A powerful new documentary film, telling the story of the Baha'is of Iran and their peaceful response to decades of state-sponsored persecution, had its UK premiere on 12 September.
Using interviews, personal stories, and archival footage – often smuggled out of Iran at great personal risk – the film, titled To Light a Candle, highlights the constructive resilience of Iran's young Baha'is who, in the face of systematic attempts by the Iranian regime to bar them from higher education, developed an informal arrangement known as the Baha'i Institute of Higher Education (BIHE), through which they could have access to university-level courses.
"It's a beautiful and simply told documentary that will hopefully draw attention to an issue that is in and out of the news only very sporadically," said the Anglo-Iranian actor and comedian Omid Djalili, who introduced the screening at the Hackney Picturehouse in London.
The film has been made by acclaimed journalist and filmmaker Maziar Bahari. He was Newsweek's Iran reporter from 1998 to 2011 and has produced a number of other documentary films about Iran. Mr. Bahari is not a member of the Baha'i community.
"The story needed a level-headed journalistic approach and that's precisely what it got," said Mr. Djalili, who described the documentary as "both extraordinary and highly emotional."
The film vividly documents that the threat of arrest and imprisonment is a daily reality for Iran's Baha'is, as academics barred from pursuing their professions attempt to educate young people in private homes.
The premiere of the film was followed by a panel discussion chaired by Mr. Djalili. In addition to Maziar Bahari, the panel included international human rights lawyer Payam Akhavan.
"In order to justify the widespread repression in Iranian society, an enemy needed to be constructed and this fell on the Baha'is," Dr. Akhavan said. "The conception of the Baha'is that the regime has put together is based on paranoia and hatred and has nothing to do with the reality of the Baha'i Faith and its community."
Both Dr. Akhavan and Mr. Bahari acknowledged, however, that in recent years increasing numbers of Iranians have changed their minds about the Baha'i community.
"Many people are learning from the Baha'is," Mr. Bahari said, adding that, in the past, Iranians "were indifferent to the fate of the Baha'is. We didn't care to care... I find it shameful we didn't hear about any Baha'is being kidnapped and killed."
"People will eventually reconcile with that shameful past," Mr. Bahari said. "Most young Iranians today have Baha'i friends despite the fact the government continues to harass them and portray them in the same negative light."
"For me – and this is one of the reasons I wanted to make this documentary – the Baha'is are a barometer for what's going on in Iran. If the country opens up a little, perhaps through a reformist government, the Baha'is are given certain freedoms. When society is more repressed, it's the Baha'is who are the first victims."
Mr. Bahari used the premiere to announce an international "Education is Not a Crime Day", to be marked on 27 February 2015, which he hopes will raise awareness of the right to education.
"These sorts of international events, which focus on some of the key themes the documentary raises, are not only instrumental in drawing attention to the hardships the Baha'is have had to endure over many decades in Iran, they incite positive change," he said.
"While Baha'is continue to face injustice, and as long as Iranian authorities treat them as second-class citizens, much remains to be done."