Conferences for youth striving to serve their communities begin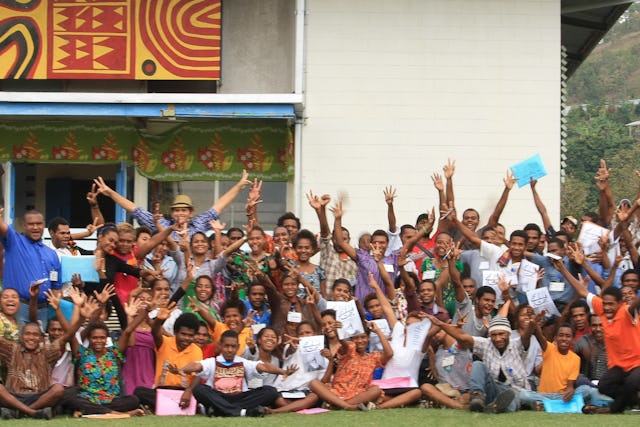 BAHA'I WORLD CENTRE — Youth striving to contribute to the well-being of their communities have begun gathering in a series of conferences called for by the Universal House of Justice, the international governing body of the Baha'i Faith. The first of the 114 youth conferences, scheduled between now and October of this year, were held this past weekend in Papua New Guinea, Canada, Costa Rica, Colombia, and Indonesia.
Among the themes to be discussed at each conference are the unique characteristics that distinguish the period of youth, the great responsibility facing young people to contribute to the betterment of society, and the importance of fostering an environment of encouragement. Many expected to attend are already engaged in offering acts of service in their own neighbourhoods and villages, including efforts to help those younger than themselves to channel their energies for the progress of their communities.
In a letter addressed to all participants dated 1 July 2013, the Universal House of Justice observed that "although your realities are shaped by a broad diversity of circumstances, yet a desire to bring about constructive change and a capacity for meaningful service, both characteristic of your stage of life, are neither limited to any race or nationality, nor dependent upon material means."
The same letter encouraged the participants to see the gatherings as part of an ever-expanding conversation about the well-being of their communities. Study sessions, group consultations, and artistic presentations will be common to the programme of each conference. More information, including individual conference reports, can be found on the official website.