A century on, legacy of 'Abdu'l-Baha honored at UK government reception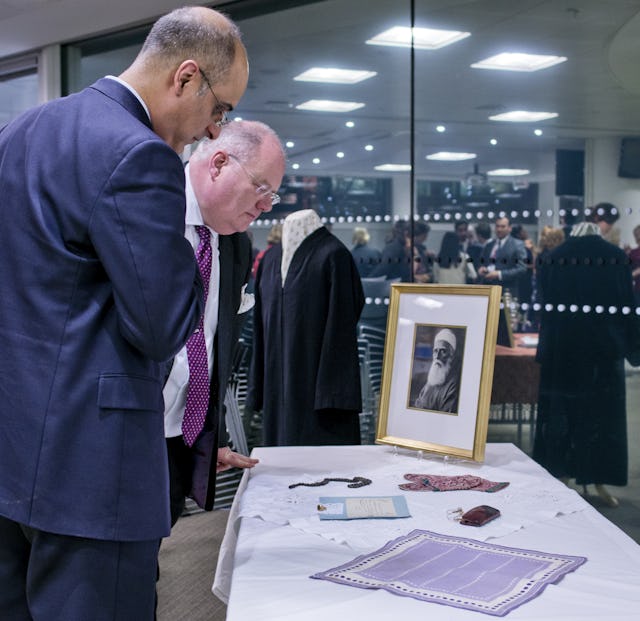 LONDON, England — Government ministers and members of parliament here welcomed more than 80 Baha'is to a unique event to pay tribute to 'Abdu'l-Baha, 100 years after His visit to Britain.
It was the first time the British government has hosted a special reception specifically for the Baha'i community.
'Abdu'l-Baha (1844-1921) was the eldest son of Baha'u'llah and His appointed successor as head of the Baha'i Faith. From 1910-1913, following His release from a lifetime of exile and imprisonment, 'Abdu'l-Baha made an historic series of journeys to present Baha'u'llah's teachings to audiences outside of the Middle East. His two visits to the British Isles took place in September 1911, and from December 1912 to January 1913.
The reception was held by the government's Department for Communities and Local Government on Wednesday 28 November. Welcoming the guests, Secretary of State Eric Pickles MP expressed appreciation for the contribution Baha'is make to UK society. He praised the "little bits of kindness" he had observed among the Baha'is and added, "We wouldn't tick along quite so well without Baha'is in our community."
Don Foster MP – who is Minister for Integration – told the gathering that, of all the significant people to come from his home constituency of Bath, he was proud to include Ethel Rosenberg, a founding member of the British Baha'i community.
"You continue to distinguish yourselves in the professions, the arts and particularly in the vital areas of education and conflict resolution," Mr. Foster told the Baha'is. 'Abdu'l-Baha's "important truth" that "we should pursue peace together and differences of race and division between religions must cease is as true today as it was then," he continued.
Kishan Manocha, speaking on behalf of the National Spiritual Assembly of the Baha'is of the United Kingdom, thanked Mr. Pickles for hosting the event, describing it as a "tremendous honor and pleasure."
Writer and actor Annabel Knight – who is a Baha'i – noted that 'Abdu'l-Baha's visit was a landmark occasion for the fledgling community which helped the small band of British Baha'is to cement their identity and put service at the heart of their community life.