Marchers in Rio call for freedom to believe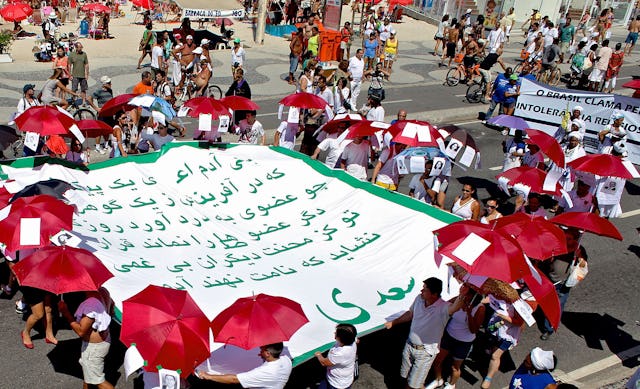 RIO DE JANEIRO, Brazil — A message of human solidarity from a medieval Persian poet was prominently displayed at Rio's famous Copacabana beach, as part of this year's Walk in Defense of Religious Liberty.
Human rights group, United4Iran, in collaboration with the Brazilian Baha'i community unfurled a large banner containing a text by Sa'di which is also to be found displayed at the entrance of the United Nations headquarters in New York. In translation, it reads: "Human beings are members of a whole/In creation of one essence and soul./If one member is afflicted with pain,/Other members uneasy will remain./If you've no sympathy for human pain,/The name of human you cannot retain."
The verse was on show at the event, held Sunday 16 September, which brought together tens of thousands of Brazilians – including Baha'is, Christians, Jews, Muslims, Hare Krishna and Santo Daime practitioners, and members of Afro-Brazilian religions Umbanda and Candomble.
Their walk called for the principle that everyone should have the freedom to believe and practice their beliefs.
The support of the Brazilian people for the beleaguered Iranian Baha'i community was particularly on display. Marchers carried pictures of prisoners of conscience fixed to umbrellas, including Iran's seven former Baha'i leaders who are now serving the fifth year of their 20-year jail terms.
The walk was organized by Rio's Commission to Combat Religious Intolerance. "There is more attention focused on this issue," said its spokesperson Ricardo Rubim, "an awareness of what religious intolerance is, which means that the number of attacks on religions can be reduced."