Robert Hayden – poet and Baha'i – honored on postage stamp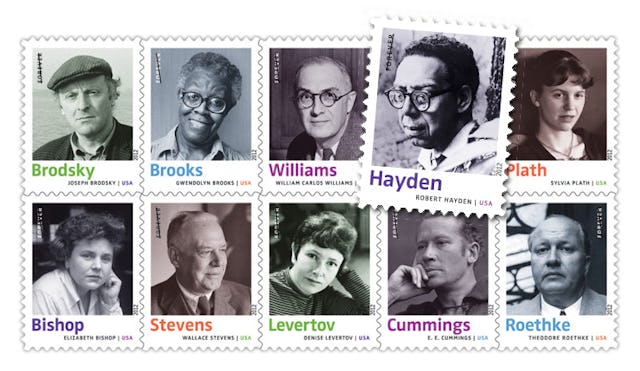 WASHINGTON, United States — Robert Hayden, the first African-American to be appointed United States Poet Laureate, has been honored on a postage stamp issued by the U.S. Postal Service.
The portrait of Mr. Hayden – who was a Baha'i – appears in a special series of 10 stamps depicting America's most important 20th century poets.
Born in 1913, Robert Hayden attended Detroit City College and earned a master's degree at the University of Michigan where he was mentored by the celebrated poet W.H. Auden.
Mr. Hayden became acquainted with the Baha'i teachings in 1943 and was drawn to their focus on racial harmony.
"He wrote several poems about his Baha'i religious faith," said an article on the US Philatelic website, "which bolstered his belief in the oneness of all humanity and in the spiritual value of the arts."
Launching the series of stamps, a U.S. Postal Service press statement said, "The poems of Robert Hayden reflect his brilliant craftsmanship, his historical conscience, and his gift for storytelling. Many of his works render aspects of the black American experience with unforgettable vividness; others are more personal."
In 1976, Mr. Hayden was named Consultant in Poetry to the Library of Congress, a post which was later renamed Poet Laureate of the United States. He taught at Fisk University in Nashville for 23 years and then at the University of Michigan from 1969 until his death in 1980 at age 66.
The other poets honored on the collection of stamps are Elizabeth Bishop, Joseph Brodsky, Gwendolyn Brooks, E.E. Cummings, Denise Levertov, Sylvia Plath, Theodore Roethke, Wallace Stevens and William Carlos Williams.