Panel examines the role of young people in social change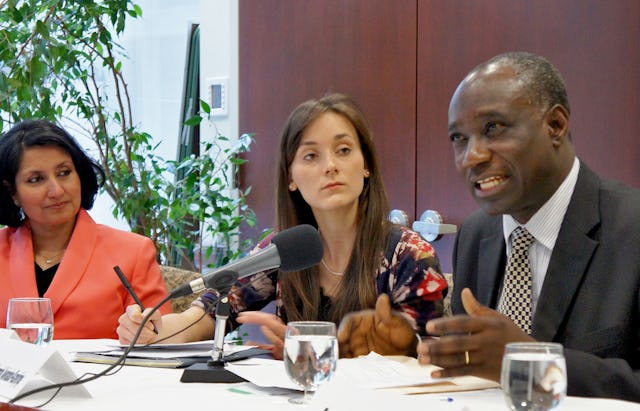 NEW YORK, United States — Preparing the world's young people for the future will require new directions in education that emphasize their role as global citizens.
That was among the ideas presented here at a panel discussion, sponsored by the Baha'i International Community, as a side event to the United Nations Commission on Population and Development, 23-27 April.
Titled "Youth and Adolescents: Educating the Protagonists of Social Change," the panel sought to address the main theme of this year's Commission.
Young people should be taught "the concept of fundamental human rights, and the concepts of tolerance, peace and diversity," said Ambassador William A. Awinador-Kanyirige, the Deputy Permanent Representative of the Permanent Mission of Ghana to the UN.
"If we don't do this, along with the basic sciences and communication skills, then we are not helping the youth to realize themselves fully," he said.
Opening the discussion, Bani Dugal – the principal representative of the Baha'i International Community to the UN – said, "We want to explore educational processes that help young people to recognize and develop their potentials...and to see themselves as protagonists of change in their own lives, in the life of their communities, and in the world."
"Many of the approaches to education today treat students in a very passive way, as receptacles of information rather than active members of their community," said Ms. Dugal.
Panelist Alicia Cundall, a student at the University of Toronto, said young people are anxious to become strategic partners in helping to plan the world they will inherit.
"I have learned that adolescents and youth are idealistic in the best way," said Ms. Cundall. "We won't take no for an answer, we stand up for what we believe, we challenge the status quo, our mindsets and attitudes are flexible and malleable and we are able to change our ways to adapt to changing times more easily than adults. We have a whole lot of energy and enthusiasm."
Programs for young people, she said, should stress the importance of service to the community and experiential learning.
As part of its contribution to this year's Commission, the Baha'i International Community issued a statement addressing the theme. The document noted that there are no fewer than one billion people worldwide between the ages of 10 and 19 – and yet half live in poverty and some 25 percent survive on less than a dollar a day.
"The future of today's society will depend to a great extent on the manner in which educational programs and methods are designed to release the latent potential of youth and prepare them for the world they will inherit," said the statement.
The full statement can be read here.