UN monitor for Iran presents first findings on human rights abuses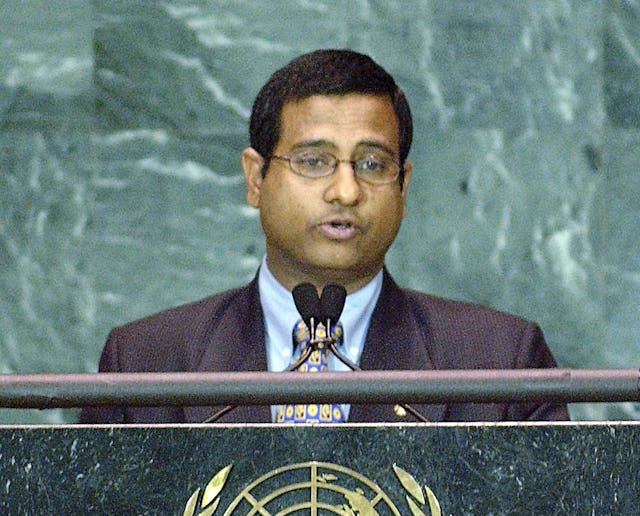 UNITED NATIONS, United States — In his first report, the newly appointed UN investigator into human rights in Iran has appealed to the Iranian government to create a culture in which the fundamental rights and freedoms of minorities and women are protected.
Special Rapporteur Ahmed Shaheed also urged Iran to refrain from repressing dissent, expressed concern about the deteriorating health of some prisoners, and repeated an earlier request to be allowed to visit the country.
The interim report – submitted to the UN General Assembly at its 66th session now under way in New York – follows concerns about Iran expressed last week by UN Secretary-General Ban Ki-Moon.
Read the Special Rapporteur's report
The Special Rapporteur, who took up his duties on 1 August, states that – instead of presenting a substantive report – he is focussing on presenting his proposed methodology for dealing with Iran, and cataloging the most recent trends in its human rights situation, gleaned from first-hand testimonies offered to him by individuals and organizations since his appointment.
These include widespread abuses against political and women's rights activists, journalists, filmmakers, human rights lawyers, and environmental campaigners; the use of torture against detainees; the imposition of the death penalty in the absence of proper judicial safeguards; requests for exorbitant bail requirements; and the lack of independence of judges.
The Special Rapporteur also expresses his concerns about human rights violations against minority groups including Arabs, Azeris, Baha'is, Balochs, Christians, Kurds, Sufis and Sunni Muslims.
In relation to Iran's Baha'i community, Dr. Shaheed reports that its members have "historically suffered multifaceted discrimination, including denial of jobs, pensions and educational opportunities, as well as confiscation and destruction of property."
At least 100 Baha'is, including seven community leaders are currently imprisoned in the Islamic Republic, says the report.
"The majority of those detained allegedly face national security-related charges and have undergone judicial proceedings that lacked due process and fair trial standards," Dr. Shaheed writes.
In conclusion, the Special Rapporteur emphasizes his desire for constructive dialogue with the Iranian Government, the international community and civil society.
"We welcome Dr. Shaheed's call upon the Iranian government to engage more closely with the international community in strengthening human rights safeguards for its citizens," said Bani Dugal, Principal Representative of the Baha'i International Community to the United Nations in New York.
"It is within Iran's power to create a culture of tolerance that prevents discrimination against women, religious and ethnic minorities, and protects their freedoms to associate and express themselves freely," she said.
"The ball is now in Iran's court. We urge them to cooperate fully with the Special Rapporteur, who must be allowed to fulfil the mandate given to him by the United Nations Human Rights Council."
Baha'i World News Service coverage of the persecution of the Baha'is in Iran
*The Baha'i World News Service has published a Special Report which includes further articles and background information about Iran's campaign to deny higher education to Baha'is. It contains news of latest developments, a summary of the situation, feature articles, case studies and testimonials from students, profiles of imprisoned educators, resources and links. *
*Another Special Report offers articles and background information about the seven Iranian Baha'i leaders – their lives, their imprisonment, trial and sentencing – and the allegations made against them. It also offers further resources about the persecution of Iran's Baha'i community. *
*The International Reaction page of the Baha'i World News service is regularly updated with responses from governments, nongovernmental organizations, and prominent individuals, to actions taken against the Baha'is of Iran. *
*The Media Reports page presents a digest of media coverage from around the world. *