Capacity building crucial to eradicating poverty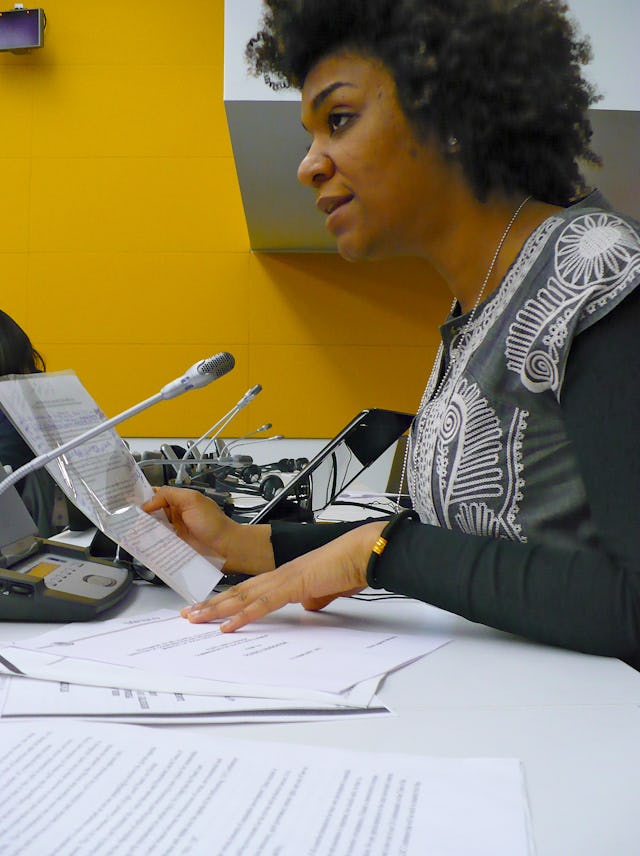 UNITED NATIONS, United States — Initiatives to address poverty should give attention to strengthening the moral, ethical and spiritual capacities of individuals and communities.
That was among the messages delivered by the Baha'i International Community and other non-governmental organizations at this year's United Nations Commission on Social Development.
"Efforts to eradicate poverty must be guided by a vision of human prosperity in the fullest sense of the term – a dynamic coherence between the material and spiritual dimensions of human life," said May Akale, a representative of the Baha'i International Community, in an oral statement to the Commission on Monday 14 February.
"Poverty, as has often been stated, is not merely the lack of material resources, but also the absence of those ethical and social resources that create an environment in which individuals, through social institutions and communities, can develop to their fullest capacity," said Ms. Akale.
Such efforts at capacity building should stress helping individuals "cultivate the capacities to become protagonists of their development."
This is especially so where it concerns the next generation, she said. "Of particular concern in seeking to develop these capacities are the many influences at work on the hearts and minds of children and youth."
"It is important to appreciate the extent to which young minds are affected by the choices of their families and communities. No matter how unintentional, choices which condone deficient ethical norms, such as the admiration for power, the seeking of status, the glorification of violence and pre-occupation with self-gratification, exercise a profound influence on young minds."
Read the full oral statement delivered at the UN Commission on Social Development (PDF).
"Building Vibrant Communities"
As a side event to the Commission, the Baha'i International Community sponsored a gathering at its offices, titled "Building Vibrant Communities: Strengthening Capacities for Justice, Equity and Collective Action."
Held on 10 February, the event took the form of a participatory "World Cafe." Some 30 representatives from non-governmental organizations took part in an informal discussion, co-sponsored by the International Movement ATD Fourth World and the Huairou Commission, which helps economically disadvantaged women organize for change.
Conversations centered on identifying the elements needed to create communities that are economically and socially healthy.
"Extreme poverty is a violation of human rights," said Cristina Diez, who represents ATD Fourth World to the United Nations, adding that the most excluded and stigmatized members of society "challenge us to think of the world in a different way."
Justice, equity and collective action must be exercised to ensure that all members of a community can have input into decisions that affect the entire group, she said.
Shannon Hayes of the Huairou Commission spoke about working with the consequences of AIDS in communities. Transparency, tolerance, inclusiveness, empowerment and democratic processes are some of the characteristics that need to be brought to the task of community building, she said.
Erin Murphy-Graham, an assistant professor of international education at New York University and a Baha'i, sought to answer the question, "What is a community?" Honesty, civic engagement and a concern for others are all necessary features, she said.
Following the speakers' presentations, participants met in smaller groups to discuss the features of a healthy society. Many concluded that the values of justice, equity and unity would need to be included in conversations about building spiritually and materially prosperous communities.
Education and empowerment, particularly of women and youth – they decided – would help to develop the skills and confidence needed for community members to recognize and demand their rights.
The United Nations Commission on Social Development meets annually to consider issues relating to poverty, social integration, and employment. This year's session commenced on 9 February and concludes this Friday, 18 February.