Newly launched "Discourse TV" in Azerbaijan explores pressing social issues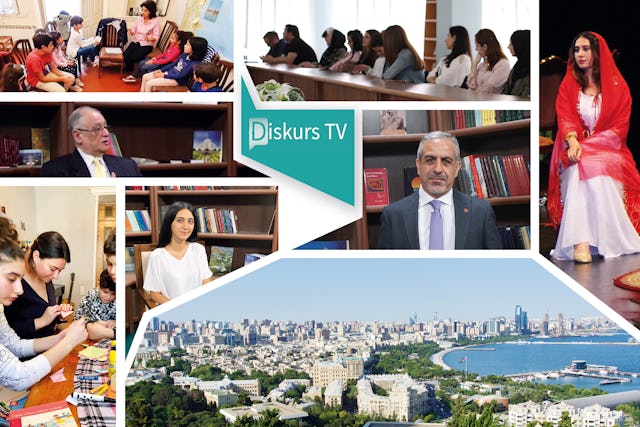 BAKU, Azerbaijan — A new video discussion program that explores issues of national concern in Azerbaijan has been launched by the country's Bahá'í Office of External Affairs.
Ramazan Asgarli of the Office explains that the program, titled "Discourse TV" is being released on social media platforms as part of the Azerbaijani Bahá'í community's efforts to contribute to the prevalent discourses of the country.
"Over the years, we have noticed that there are few social spaces that consistently address a topic over an extended period of time. That is why we decided to create a discussion program that keeps revisiting a set of topics, such as the equality of men and women, the role of moral education in building capacity for service to society, the role of the media in society, and harmony between science and religion," he says.
Mr. Asgarli continues to explain that social media was selected as the outlet for the video program because many people in Azerbaijan engage in the exchange of ideas online, but these exchanges are fragmented, making it difficult to see the evolution of thought on any given topic.
He adds: "By creating this program, we hope to provide a discussion space for different social actors to delve deeper into issues, so that over time people can see how thinking is expanding."
In a recent program on the Bahá'í principle of the equality of women and men, Adile Nazar, a poet, expressed her appreciation for the initiative, stating: "Promoting the discourse on equality in online spaces will contribute greatly to strengthening understanding of this important principle. As an admirer of Tahirih (an important figure in early Bahá'í history), the teachings she stood for need to be talked about more and more."
Fuad Mammadov, president of the National Association of Culture and a guest on an episode on the harmony between science and religion, stated: "This initiative is an important contribution to our society.
"Conversations on these topics are often explored only at the academic level," continued Dr. Mammadov, "but this program will help to include many more people in these discussions."
Looking to the future of the program, Mr. Asgarli explains that the Office of External Affairs hopes that this initiative can challenge bleak assumptions about human nature that deny the human capacity for transcending aggression and conflict.
He states: "Many of the messages propagated on the media are designed to appeal to the lower nature of human beings. We hope that the conversations on this program can highlight people's spiritual nature, and, by doing so, inspire action for the betterment of our society."
Programs of "Discourse TV" can be viewed on this YouTube channel.