BIC marks 75 years of UN, envisages path to just global order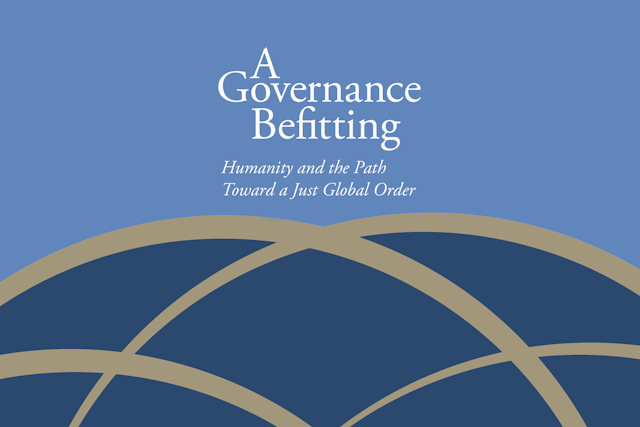 BIC NEW YORK — As the United Nations marks its 75th anniversary, the Bahá'í International Community (BIC) has released a statement on the occasion. That the UN has persisted in spite of numerous challenges and has so far lasted three times the 25-year lifespan of the League of Nations—humanity's first serious attempt at global governance—is an impressive accomplishment, says the BIC.
The statement highlights the need for systems of global cooperation to be strengthened if humanity is to address the serious challenges of our time and seize the immense opportunities of the coming years for progress.
It explores elements necessary for a movement toward enduring, universal peace, including: the acknowledgement of the oneness and interdependence of the human family; a genuine concern for all, without distinction; the ability of nations to learn from one another, and a willing acceptance of setbacks and missteps as inevitable aspects of the learning process; and, the conscious effort to ensure that material progress is connected to spiritual and social progress.
"Collaboration is possible on scales undreamt of in past ages, opening unparalleled prospects for progress," the statement reads. "The task before the community of nations… is to ensure that the machinery of international politics and power is increasingly directed toward cooperation and unity."
The BIC, in its statement, sees this to be an opportune moment for the international community to begin building consensus about how it can better organize itself, suggesting several initiatives and innovations that may be worthy of further consideration. For example, a world council on future affairs that could institutionalize consideration of how policies might impact generations to come and give attention to a range of issues such as preparedness for global crises, the use of emerging technologies, or the future of education or employment.
Titled "A Governance Befitting: Humanity and the Path Toward a Just Global Order," the statement is being released to coincide with the UN General Assembly's commemoration today of the 75th anniversary. It was sent today to the Secretary General of the UN and to the ambassadors of Member States.
Coming at a time when the global health crisis has prompted a deeper appreciation of humanity's interdependence, this anniversary year has given rise to discussion about the role of international structures and reforms that can be made to the UN.
The statement is one of several contributions the BIC is making to these discussions. It will continue its exploration of the profound themes in the statement at an online meeting next month with UN officials and ambassadors.