On migration, BIC sees need for cooperation, focuses on root causes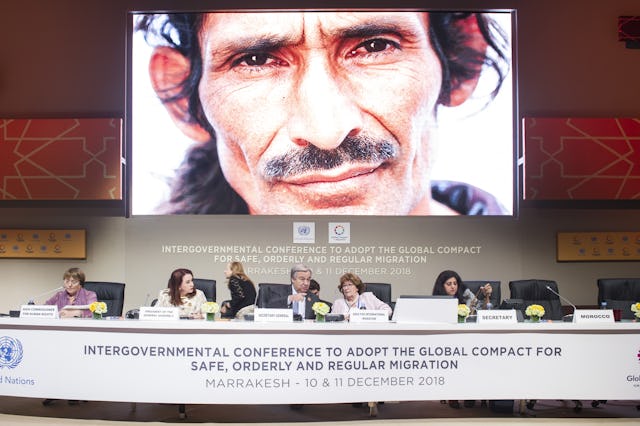 MARRAKECH, Morocco — More than a quarter billion people have left their home countries—many compelled by war, economic deprivation, or environmental degradation—in search of a better future elsewhere. To address this growing movement of populations, world leaders gathered last week at a historic conference where 164 nations adopted the first-ever United Nations global agreement on a common approach to international migration.
Called the Global Compact for Safe, Orderly and Regular Migration, the non-binding pact aims to foster a cooperative international approach to migration and reduce the risks and challenges for people on the move.
"Understanding the deeper causes of international migration is forcing us all to look at how the affairs of an increasingly global society are organized," says Baha'i International Community (BIC) representative Simin Fahandej, who participated in the conference held on 10 and 11 December in Marrakech, Morocco. "This agreement has brought the countries of the world into a global conversation about an issue that has mostly been dealt with at the national or regional level."
Over the past five years, the Baha'i community has been engaged in national and international forums focused on migration. It has been working with diverse social actors to better understand the deeper causes of forced migration, its impact on societies, and insights that can help humanity to move forward in addressing this issue through consultation and collaboration.
"It seems inevitable that movements resulting from inhumane and intolerable circumstances will continue to increase unless there is a broad and concerted effort to address the underlying causes," explains Ms. Fahandej. "The Global Compact for Migration highlights the willingness of many in the international community to look fundamentally at some of those causes and to begin to ask searching questions: What about current structures, systems, and attitudes is perpetuating the conditions causing millions of people to leave their homelands? How can we expect substantial change in the movement of populations if the structures that propel inequality and war do not change?"
The BIC representatives also noted the acknowledgment by leaders that, although global challenges must be addressed collectively, the precise nature of the questions facing the different regions of the world vary.
"This led to a discussion about the responsibilities of different regions," adds Rachel Bayani, who attended the conference on behalf of the BIC Brussels Office. "Some would need to reflect on how their policies—for instance, on trade, on investment, on the environment—inadvertently affect the socio-economic conditions in the countries of origin. Others would need to explore how they could address the conditions within their own countries that are forcing people to leave."
A BIC statement issued ahead of the conference reiterates the need for a global focus on migration and "a long-term approach" that "calls for a far-reaching, multi-dimensional, dispassionate and informed conversation around the issue of migration."
"That conversation cannot fall short of examining social, political and economic structures, systems and attitudes that underpin and perpetuate the current order," the statement asserts. "It needs to include a genuine reflection on how this order can be redesigned to ensure an adequate response to the needs of masses of the world's population living in situations of war, poverty and oppression. Most importantly, it needs to be based on the understanding of the indisputable interconnectedness of our societies, and the reality that humanity's collective life suffers when any one group thinks of its own well-being in isolation from that of its neighbours."
The conference was conceived in September 2016 when the UN General Assembly unanimously agreed to prepare a global migration agreement and to meet this month to adopt its text. The process has not been without challenges; nearly 30 UN member states have since backed out of the agreement.
The 34-page global compact is a non-binding declaration that aims to ensure a life of safety and dignity for migrants and to better manage the movement of populations. The agreement includes 23 objectives for "safe, orderly, and regular migration," including: minimizing the adverse drivers and structural factors that compel people to leave their home country, managing international borders, eliminating all forms of discrimination and promoting evidence-based public discourse to shape perceptions of migration, and strengthening international cooperation.
"Most importantly, (the conversation) needs to be based on the understanding of the indisputable interconnectedness of our societies, and the reality that humanity's collective life suffers when any one group thinks of its own well-being in isolation from that of its neighbours."




—The Baha'i International Community
Throughout the event, many government leaders noted the need for an international solution to the challenges placed on nations by migration. "We must equally address the drivers and outcomes of irregular migration," explained Sierra Leone's President Julius Maada Bio.
German Chancellor Angela Merkel praised the compact's focus on "the foundations of international cooperation." She added that "globalization, if we want to give it a human face, can only be shaped in such a humane way when all countries on this planet have fair and equal opportunities to develop."
About 3,200 people attended the conference, including representatives of more than 150 countries.
Read more from the BIC about its statement at the UN conference.
(Editor's note: On 19 December, to more accurately reflect the text of the Global Compact, the first paragraph of this story was modified and a second added.)