New section of bicentenary site widens window on celebrations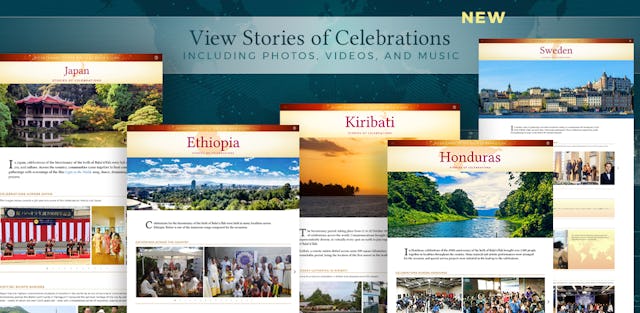 BAHA'I WORLD CENTRE — A new section of the bicentenary website was made available moments ago.
The new feature provides an expanded view—from over 150 countries and territories—of initiatives and celebrations marking the 200th anniversary of the birth of Baha'u'llah.
Visitors can explore the greatly increased content, including image galleries, music, and videos, by region. The website reflects both the global scope of the celebrations and the diverse cultural settings in which Baha'u'llah's life and teachings were honored.
First launched in September 2017, the site has unfolded in stages to feature artistic endeavors, articles on the life and teachings of Baha'u'llah, public messages from national and local leaders, a letter from the Universal House of Justice, and a feature film about the life of Baha'u'llah. Over the 72-hour period in October during which the bicentenary was commemorated, as the world turned twice on its axis, the site provided a regularly updated sampling of celebrations across the globe.
With the addition of the new section, the site will serve as a historical record of the worldwide outpouring of love for Baha'u'llah and dedication to His vision of a just and peaceful world.