New educational facility opens at Baha'i Lotus Temple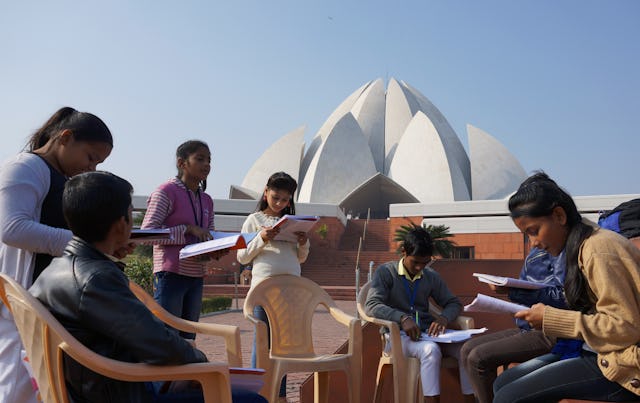 NEW DELHI, India — The Baha'i House of Worship is an institution at whose heart is the intimate connection between worship of God and service to humanity. At the Lotus Temple in New Delhi, this relationship is becoming more tangible with the inauguration of a new educational center on its grounds.
"The purpose of this center is to build community," explains Shaheen Javid, General Manager of the House of Worship. The educational facility, which can accommodate hundreds, will be used to host camps, courses, and seminars for youth and young adults who are involved in efforts to improve their communities.
Inspired by the Baha'i principles of oneness of humankind and justice, thousands of youth in Delhi are at the heart of far-reaching community-building activities. Throughout the city, these young people are teaching classes for the spiritual education of children that develop in them a deep appreciation for the unity of all peoples, races, and religions. They also work with junior youth to develop their powers of expression and their capacities for service to their communities.
"The purpose of this center is to build community."




—Shaheen Javid, General Manager of the House of Worship
Beyond their commitment to the next generation, many youth also organize prayer gatherings that bring neighbors together and foster social harmony, and they host and participate in classes that enable adults to explore the spiritual nature of existence and to take concrete action in service to their communities and society.
"These young people who are engaged in this process are coming to realize the importance of spiritual progress," said Carmel Tripathi, the Director of the Office of Public Information at the House of Worship. "Now, when they are able to study at the new facility, they can start every day with prayers in the Temple.
"They are working together to transform their inner lives and outer conditions."
The need for more spaces to gather, work, study, and pray has begun to emerge as the number of youth moved by this vision of unity and peace has grown in New Delhi. Previously, programs, seminars, and courses would be held on the grounds of the House of Worship on an ad hoc basis, using facilities that had been built there for other purposes, such as the accommodation of the Temple's staff. With the opening of the new educational facility, many more will be able to attend these programs than was possible before.
"To have such a dynamic and flourishing movement of young people dedicated to service to their communities, many of whom come from the surrounding neighborhoods, meeting and learning together right here in the shadow of the Temple is something very special. It's giving us a glimpse of what it means to have a House of Worship where a community can come to be focused on service and united in prayer," said Tabriz Alam, who assists with the coordination of Baha'i educational efforts in New Delhi.
Beyond the opening of the educational facility, there have been other important developments at the House of Worship. Access to the Temple in New Delhi has been recently made easier by the opening of a new metro line with a stop in close proximity. The last time metro access was improved, in 2010, the number of annual visitors to the Temple grew from around 3 million to 5.6 million. Staff at the House of Worship anticipate a similar jump in numbers with the opening of the new line.
The Temple in New Delhi, which opened in 1986, receives 10,000–15,000 visitors on weekdays and over 35,000 on weekends. It is one of eight continental Baha'i Houses of Worship throughout the world. These edifices, including the local and national Temples that are beginning to emerge, embody the concepts of unity and oneness, and stand as lights in their communities.