Faiths' contribution to peace explored at Presidential Palace in Colombia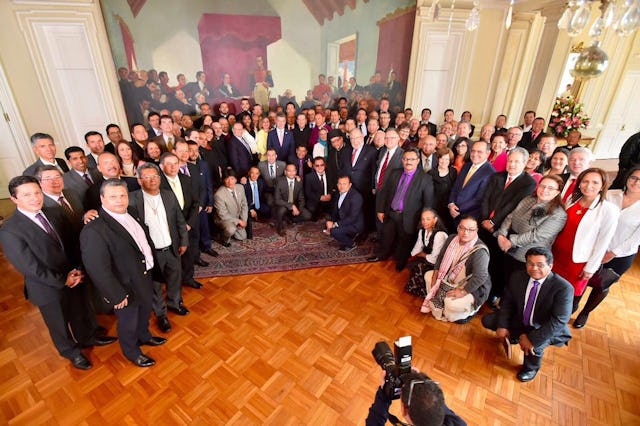 BOGOTA, Colombia — Approaching a highly anticipated, historic peace agreement in Colombia between the government and the Revolutionary Armed Forces of Colombia (FARC), President Juan Manuel Santos invited over 100 religious representatives to gather at the Presidential Palace on 4 July 2016.
Given the unique role that religion plays in inspiring individuals and communities to work together for the common good, this event sought to explore the contributions religion can make to the peace process in Colombia, a country which has endured almost seven decades of violent civil conflict.
Addressing the audience, President Santos spoke about the common aspiration among all religions for peace and harmony. Drawing on sacred scriptures, he quoted a passage from Baha'u'llah: "So powerful is the light of unity that it can illuminate the whole earth."
Speaking about the event, Ximena Osorio, a representative of the Colombian Baha'i community, said, "Our government considers religious communities to be important social actors. Religions have a reach that the government doesn't have, for example in more remote regions and at the grassroots."
This thought was acknowledged at the conference by government officials as well. "You are key in this process of achieving peace, as spiritual leaders of Colombia," said Deputy Minister of the Interior Carmen Ines Vasquez, who, during her speech, reiterated the importance of working together to achieve a lasting peace through forgiveness and reconciliation.
"In recent years there has been a growing interest in better understanding the role religious actors have in promoting the welfare of society," said Mrs. Osorio during her comments at the event. "This trend has been driven by a growing awareness of the immense reservoir of potential that religious communities have to contribute to the advancement of many social causes."
The upcoming peace agreement seeks to bring to a close decades of conflict that have claimed approximately 220,000 lives and generated untold trauma in their wake. The peace talks, which started in 2012, are expected to come to fruition on 20 July 2016 with the signing of the agreement.