Widespread attack launched in Iran against Baha'i businesses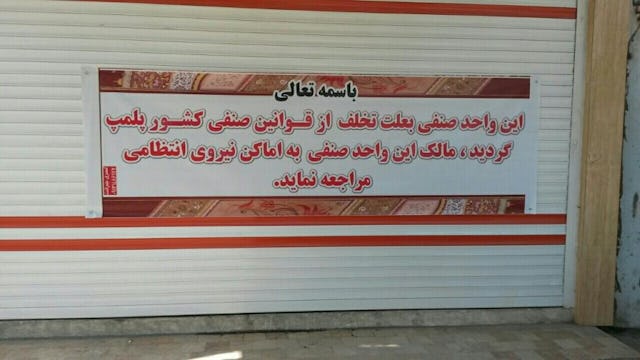 NEW YORK, United States — Just as the United Nations' Universal Periodic Review of Iran's human rights record is taking place in Geneva and representatives of that country protest that they safeguard and uphold the human rights of all their citizens, the authorities in one region of Iran have launched a widespread, pre-planned, systematic attack against Baha'i business owners. This has brought further pain and hardship to countless families who are already suffering from the consequences of government policies aimed at nothing less than the economic strangulation of the Baha'i community in Iran.
On the morning of Saturday 25 October, the authorities descended on no fewer than 79 Baha'i-owned shops in Kerman, Rafsanjan, and Jiroft, summarily sealing the premises which were closed to allow the proprietors to observe a Baha'i Holy Day.
In a blatant attempt to besmirch the good reputation of the Baha'i owners, the authorities displayed banners at the shops asserting that the owners had violated the rules governing business and trade practices.
The Baha'is have justly earned high repute among their fellow citizens for honesty and trustworthiness in all their dealings – including among their Muslim employees and colleagues, as well as their customers and clients. Members of the Baha'i community are bending every effort to pursue justice through the legal avenues available to them, even though it is clear that the action against them is state-sponsored. They are also calling upon the authorities to provide evidence for the unfounded accusations leveled against so many Baha'i shop-owners, including specific laws and standards that have purportedly been breached.
"Representatives of a state that claims its Constitution and laws are based upon Islamic teachings and principles would do well to consider the impact of their duplicities on the younger generation and the future of their country," said Ms. Bani Dugal, Representative of the Baha'i International Community. "We call upon all governments to exert pressure upon the government of Iran to stop this and all other forms of discrimination against the Baha'is of Iran, who remain innocent of the accusations levelled against them and seek only to contribute to the advancement of their nation as loyal, law-abiding citizens."