Religious leaders and prominent thinkers in India respond to Iranian cleric's courageous act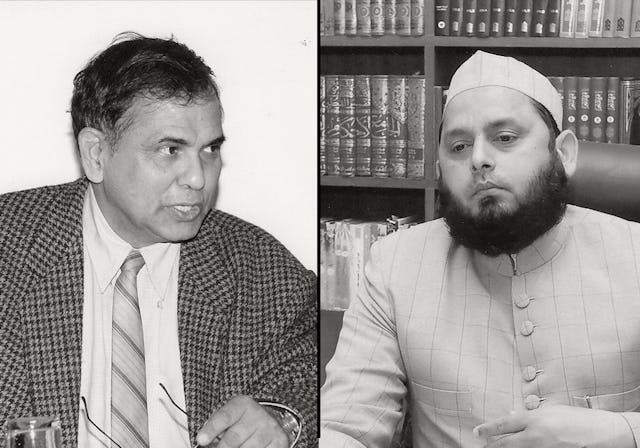 NEW DELHI, India — In India, a number of prominent religious leaders have commended the recent decision of Ayatollah Abdol-Hamid Masoumi-Tehrani to gift an artistic rendering of a verse from the Baha'i sacred writings to the Baha'is of the world. This action represents a profound appeal for religious coexistence and the recognition of the human dignity of all members of society. Ayatollah Tehrani's gift was accompanied by a statement calling for an end to "blind religious prejudice" against the Baha'is of Iran.
In recent days, leaders of the Buddhist, Islamic, Jain, Sikh, and Zoroastrian communities have responded with statements of support and hope.
In a response to this unprecedented gesture by an Iranian religious leader, the head of the Islamic Centre of India, Maulana Khalid Rasheed Farangi Mahli, commented: "This friendliness towards a beleaguered religious minority is an exemplary act. It underscores the principle of the equality of all people before God, irrespective of religious belief."
"Islam teaches brotherhood and unity with all peoples on earth, and Ayatollah Tehrani's exalted act is in accordance with the fundamental teachings of God."
Bhikshu Pragyanand of the Indian Buddhist Society (Bhartiya Buddha Samiti), a regionally prominent leader who is based in Lucknow, said Ayatollah Tehrani has set "an example for religious leaders of the world."
"His exhortation for the avoidance of hatred, enmity, and blind religious prejudice is very needed in today's world where freedom of conscience and freedom of belief are under constant threat in many countries," said Bhikshu Pragyanand.
Representing the Sikh community, Rajendra Singh Bagga, president of the Lucknow Gurudwara Prabandhak Committee, said Ayatollah Tehrani's gift "once again proves that humanity, compassion and peaceful coexistence is a very base of every religion of the world."
H. S. Sepai, leader of the Lucknow Parsi Anjuman of the Zoroastrian community, said Ayatollah Tehrani has shown "the way towards realization of world unity and world peace."
Shailendra Jain, national vice president of Bhartiya Jain Milan, called Ayatollah Tehrani's statement "path-breaking." "His noble gesture for the Baha'is of the world is to be appreciated by one and all," he said.
Prominent individuals in the academic and development communities have also responded with praise, including the well-known social scientist Amitabh Kundu. Dr. Kundu, an internationally recognized author of more than 25 books on economics, development, and social science, said he felt "happiness and satisfaction" upon learning of Ayatollah Tehrani's action.
"Let us hope that this is a beginning of a new beginning," he further commented. "This would be the view and hope of all right thinking people in India desiring to live in an inclusive world."
Rakesh Kumar Mittal of the Kabir Peace Mission called Ayatollah Tehrani's action "courageous," saying that he has "stood up for freedom of belief and the equality of all before God."
Ayatollah Tehrani's gift was dedicated to the Bahai's of the world and sent to the Universal House of Justice - the governing council of the worldwide Baha'i community. It was announced on 7 April 2014 when he posted an image of the work on his website, along with a personal statement about his intentions in creating an illuminated calligraphic rendering of a verse from Baha'u'llah's Kitab-i-Aqdas, which translates as the "Most Holy Book."
At the heart of this verse are the following words: "Consort with the followers of all religions with amity and concord."
Ayatollah Tehrani's action has received wide coverage in the media, as well as statements of praise from Christian leaders.