Artworks convey personal stories of persecution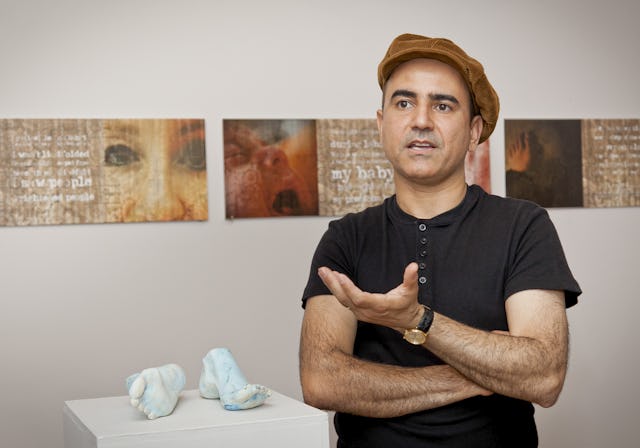 SYDNEY, Australia — Works of art by a group of Australian-Iranians are highlighting the issue of religious persecution in Iran.
A new exhibition here includes works by artists all of whom have family or friends who have faced oppression and imprisonment by the Iranian regime, in particular for their membership of the Baha'i Faith.
The artists are painter and digital artist Shadi Eshragi, writer Maryam Master, photographer Leila Barbaro, and ceramic and multi-media artist Mehrzad Mumtahan. They are hoping the exhibition – staged in the "At the Vanishing Point-Contemporary Art Inc." gallery in Newtown – will contribute to calls for the just treatment of all Iranian citizens.
Real-life stories reflected in the artworks include the case of a bright and popular girl who was shamed in front of her classmates and then expelled from school; the abduction and incarceration of a quiet and unassuming family man; the imprisonment of a pregnant woman who subsequently gave birth while behind bars; and the dismissal from his post of a respected university professor because of his beliefs.
The show's opening on Saturday 15 December was attended by some 70 guests including Catherine Cusack, member of the New South Wales Legislative Council, representing the state premier Barry O'Farrell; the deputy mayor of Marrickville, Councilor Emanuel Tsardoulias; and Philip Ruddock M.P.
Describing the exhibition as "incredibly important," Ms. Cusack said it "speaks the truth about injustice and oppression and it is moving in its authenticity. Although the exhibition exposes a terrifying oppression on the other side of the planet, it is, I think, very Australian – the way in which the artists have banded together, shared, drawn upon their creativity and skill using their art to speak...directly to our emotions."
The gallery's managing director Brendan Penzer, expressed his pleasure at being able to display the works, saying his organization had a proud history of staging "exhibitions that encourage us all to engage in dialogue and discourse around important contemporary cultural, political, social and ecological issues."