Hungarian personalities speak out for human rights in Iran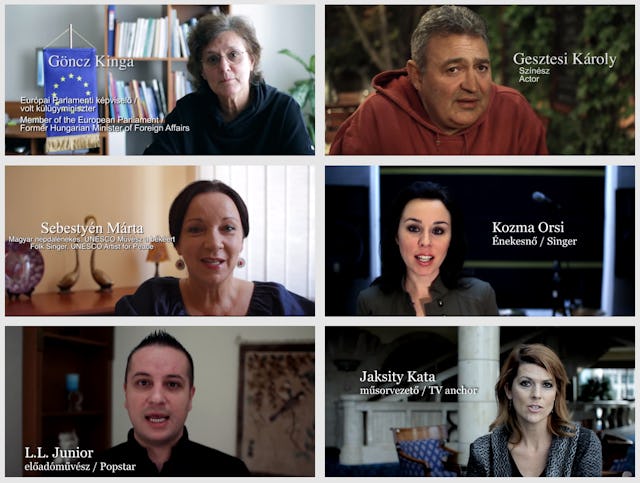 BUDAPEST, Hungary — A host of well-known personalities have joined a campaign here to show support for victims of human rights abuses in Iran.
Under the banner, "Prominent Hungarians for Human Rights in Iran," the celebrities say they want to encourage sustained international attention on the issue, which includes the ongoing violations faced by Iran's Baha'i community.
"I sincerely hope that the situation in Iran will improve in the near future in the direction of democracy, recognition of basic human rights, and freedom," said campaigner Kinga Göncz, a member of the European Parliament and former Hungarian Minister of Foreign Affairs.
"We all know – and I believe in my heart – that the culture of a country is greatly enriched by diversity of any kind including religious diversity," said Ms. Göncz.
"If Iran supports its religious minorities such as the Baha'i community this can only enhance the country."
Internationally acclaimed folk singer Márta Sebestyén – who is a UNESCO Artist for Peace – said she is also saddened by the situation in Iran.
"Baha'i students are banned from university and news reporters are imprisoned," said Ms. Sebestyén. "This is very painful. It is the same as cutting off a birds' wings or telling someone like me I am not free to sing."
Additional personalities who have joined the campaign include: MP Ágnes Osztolykán; journalists Ilona Bayer, Soma Mamagésa and Kata Jaksity; actors Sándor Csányi and Károly Gesztesi; international fencing champion Ivan Kovács; and musicians including Orsi Kozma and rapper L.L. Junior.
Other prominent Hungarians are lining up to post video messages supporting the campaign in the coming months. Messages can be viewed online here.