Inequality between rich and poor highlighted by UN panel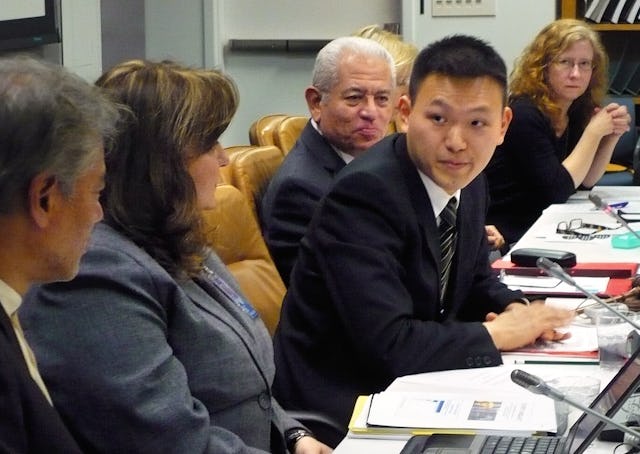 UNITED NATIONS, United States — While the economic crisis has led many to focus on inequalities at the national level, the extremes between rich and poor internationally have also grown to become a threat to global stability.
That was among the themes raised by a panel here, held as part of this year's session of the UN Commission for Social Development, which runs until Friday.
Focusing on the Commission's theme of poverty eradication, the discussion – organized by the Baha'i International Community and co-sponsored by ATD Fourth World – brought together top-level UN diplomats, officials from UN agencies, and representatives of non-governmental organizations.
In his remarks, Ambassador Jorge Valero – Permanent Representative for Venezuela to the UN and Chair of the Commission for Social Development – blamed growing inequality on the excesses of global capitalism.
"Inequality and poverty, climate change and the destruction of ecosystems are outstanding issues on the international agenda," said Ambassador Valero.
"These calamities can only be effectively addressed by attacking the structural causes that generate them: a consumerist, selfish and predatory global system that is based on the commodification of man and nature."
Jomo Kwame Sundaram, UN Assistant Secretary General for Economic Development, said that while the issue of inequality is often examined from the national viewpoint, two-thirds of global inequality stems from differences between countries.
International differences are "very, very stark," he said, noting that such inequalities have increased over the last three decades.
"The big promise of financial globalization was that if you ease restrictions, there will be a free flow of capital, and it will flow from rich to poor. This didn't happen. Capital flowed uphill, from the poor to the rich," said Dr. Sundaram.
Other participants in the panel – held on Wednesday 1 February – included: Isabel Ortiz, Associate Director of Policy and Practice at UNICEF; Christine Bockstal, Chief of the Technical Cooperation and Country Operations Group for the Social Security Department of the International Labour Organization; and Sara Burke, a Senior Policy Analyst at Friedrich-Ebert-Stiftung.
Dr. Ortiz reported that the top 20 percent of the world's population has more than 80 percent of the world's income – but the poorest 20 percent have less than one percent of the global income.
"National redistribution is not enough to address inequality," she said. "There is a strong link between high income inequality and social unrest and economic instability."
In his remarks, Ming Hwee Chong of the Baha'i International Community (BIC) drew attention to recent remarks made by UN Secretary-General Ban Ki-moon about income inequality at all levels increasing over the last 25 years, posing a serious barrier worldwide to poverty eradication and social integration.
Mr. Chong said it is time to ask some critical questions regarding the relationship between poverty eradication and the economic extremes that now exist in the world.
Introducing a BIC statement prepared for the Commission, Mr. Chong noted that relationships of dominance – one nation over another, one race over another, or one class or gender over another – contribute to inequitable access to resources and knowledge.
The statement also expresses concern that a "materialistic worldview, which underpins much of modern economic thinking, reduces concepts of value, human purpose and human interactions to the self-interested pursuit of material wealth."
Mr. Chong said that – while much attention has been paid to the political, policy and transactional dimensions of the current crisis – the aim of the discussion was to collaborate on "creating a space to dig deeper in order to bring to the surface some of the underlying assumptions that shape our economic and social reality."