Romanian personalities demand human rights for Iran's Baha'is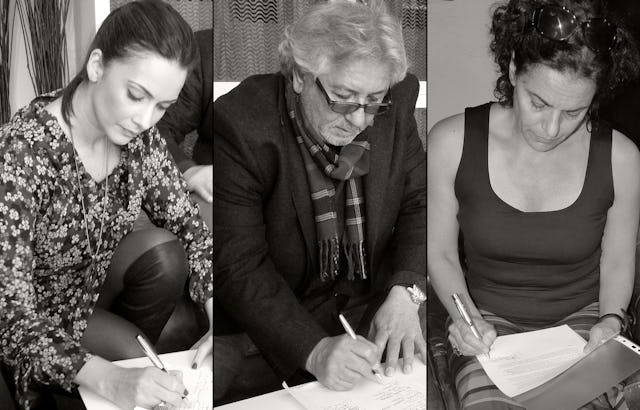 BUCHAREST, Romania — Almost 70 prominent Romanians are calling upon the government of Iran to grant Baha'is their fundamental human rights.
Sixty-eight celebrated figures – from the worlds of academia, arts, banking, business, media and medicine – have signed a petition, appealing to the Iranian authorities to cease its systematic campaign of persecution of the Baha'is, "who seek only their rights under the Universal Declaration of Human Rights, including the right to life, the right to liberty and security of person, the right to education and work, and the right to practice their religion..."
The letter was instigated by Radu Gabrea, a renowned film director, along with Istvan Haller of Romania's National Council for Combating Discrimination.
Among the signatories are internationally-acclaimed actress Maia Morgenstern, best-known for her portrayal of Mary in The Passion of the Christ; television news presenter Andreea Berecleanu; well-known drummer Ovidiu Lipan Tândărică; and a former government minister, Ilie Serbănescu.
The petition highlights the case of the seven imprisoned Baha'i leaders, as well as Iran's "repeated attempts to hinder the progress of the Baha'i community's efforts to educate its young people," and a "litany of other abuses and violations of their fundamental rights."
"We do not understand...why the Iranian state sanctions the incitement of hatred against the Baha'is in Iran, why it allows fire bombings and torchings of their places of business, and other forms of terrorization, that seek to drive them out of their towns and cities..." the petition states.
"We do not understand why they are harassed when burying their dead, why Baha'i cemeteries are desecrated, why they are denied business licenses, why their businesses and properties are confiscated, and why the Baha'is are denied work and pensions."
Della Marcus of the Romanian Baha'i community said it is unprecedented for such a large number of prominent people to speak up for the cause of the Baha'is in Iran.
"We pray that this petition will contribute to making it clear to the Iranian government that there are many around the world that do not accept their state-sponsored persecution of the Baha'is," said Ms. Marcus.
Further information
The International Reaction page of the Baha'i World News service is regularly updated with responses from governments, nongovernmental organizations, and prominent individuals, to actions taken against the Baha'is of Iran.