Jailed Iranian Baha'i leader appears on Dutch postage stamp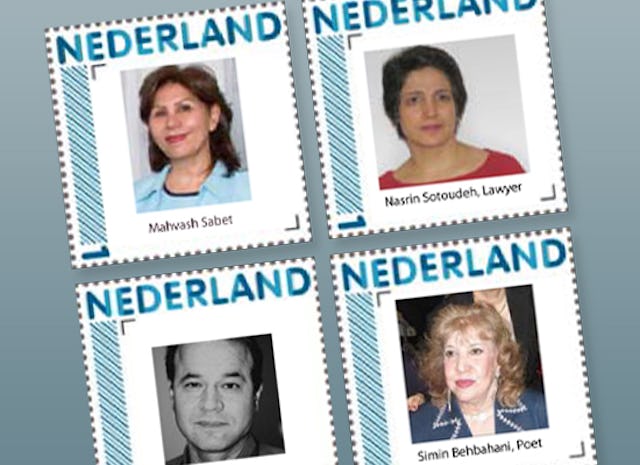 HILVERSUM, Netherlands — A series of special postage stamps portraying victims of human rights abuses in Iran has been launched in the Netherlands.
Current and forthcoming stamps in the series depict the acclaimed poet Simin Behbahani; trade unionist Mansour Osanlou; Mahvash Sabet – one of Iran's seven Baha'i leaders; and human rights lawyer Nasrin Sotoudeh.
The stamps are officially accepted by the Netherlands' national postal service and are valid for use on mail.
The initiative was the brainchild of Mina Saadadi, managing editor of media organization Shahrzad News, which produces radio programs and online content in Persian and English.
"Here in the Netherlands, we have the possibility to publish and design our own stamps," said Ms. Saadadi. "There are a lot of violations of human rights in Iran, so we thought, 'Why don't we cover the different sections of Iranian society and give a face to those who are under pressure?'"
Shahrzad News has entered into partnerships with relevant organizations to produce and promote the stamps. The one depicting Mansour Osanlou, the imprisoned leader of a transport workers' union, has been used on letters to Iran from the Dutch federation of trade unions – Federatie Nederlandse Vakbeweging (FNV) – concerning the situation of Iranian labor activists.
Five thousand copies of the stamp showing Mahvash Sabet have just been printed.
"It's very moving to see the face of someone who has been willing to sacrifice everything for her values going out on letters and postcards all over the world," said Marga Martens of the Netherlands Baha'i community.
A trained psychologist, Mrs. Sabet worked as a teacher and a principal at several schools. After the 1979 Islamic revolution, however, along with thousands of other Baha'i educators, she was fired from her job and barred from working in public education.
Mrs. Sabet has been incarcerated since 5 March 2008. She was the first to be arrested of a seven-member, national-level ad hoc group that helped attend to the needs of Iran's 300,000-strong Baha'i community. After an illegal 30-month detention, the seven were tried on trumped-up charges and each sentenced in August 2010 to 20 years in jail.
"In many ways, this stamp not only represents the seven leaders – and the other 90 or so Baha'i prisoners in Iran – but all who are victimized for standing up for their principles," said Ms. Martens.
"At a time when the Iranian authorities are clamping down on community initiatives to educate young Baha'is who are banned from university, Mrs. Sabet - as a teacher, a mother and a Baha'i - symbolizes a commitment to education, and the right to freedom of religion for all."
Nasrin Sotoudeh – whose face will appear on another stamp in the series – is a prominent lawyer who has represented numerous victims of human rights abuses, including prisoners sentenced to death for crimes committed when they were minors. In January this year, authorities sentenced Ms. Sotoudeh to 11 years in prison for charges that include "activities against national security" and "propaganda against the regime." Additionally, she has been barred from practicing law and from leaving Iran for 20 years.
83-year old Simin Behbahani – also to be depicted on a stamp – is one of the most prominent figures in modern Persian literature. Called the "lioness of Iran" by her admirers, she is also unable to leave the country.
Shahrzad News is publishing articles about the stamps and presenting them at events including, for example, a conference held in the Netherlands last week attended by some 300 Iranian women.
"They were glad to hear about the idea of giving a face to people who are struggling in Iran," said Ms. Saadadi.
"The art is for groups to be able to connect together with others while focusing on their own issue. It is very important to work with others; ethnic minorities, religious minorities, other movements, are not loud enough to be heard alone."