Historic landmark elections for European Baha'i communities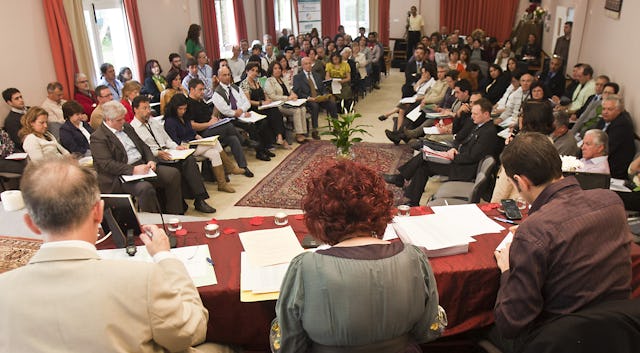 LLÍRIA, VALENCIA, Spain — Along with 10 other European countries, the Baha'is of Spain have elected their National Spiritual Assembly for the 50th time.
Elections for national Baha'i institutions throughout the world take place at conventions during the 12-day festival of Ridvan, which begins each year on 21 April and ends on 2 May.
As part of Spain's 50th national convention programme, delegates and visitors heard recollections of earlier elections from those who participated in them.
Rouhollah Mehrabkhani – now 90 years old – arrived from Iran in the 1950s to help establish a Baha'i community in Spain. He was among the nine members elected to the first National Spiritual Assembly in 1962.
"Those early Baha'is had qualities that I believe we can learn a lot from today in our work to help others," said Mr. Mehrabkhani.
"They were willing to sacrifice their material comfort to promote the best interests of their community and fellow-citizens, some of them even suffering imprisonment and expulsion from the country for their Baha'i service during Franco's authoritarian regime," he said, recalling life under Spain's then leader.
The convention also viewed a video message sent by Charles Ioas from the United States, who left his homeland in 1954 to become one of the first Baha'is to settle in the Balearic Islands. Along with Mr. Mehrabkhani, Mr. Ioas is the only member of the first National Spiritual Assembly still living.
"The 1962 election was exhilarating," said Mr. Ioas. "It was a milestone, a very significant development for us. We formed and started to function. Then, after a period, the official recognition came."
A "yearning to transform society"
Today there are more than 4,000 Baha'is in Spain. Their activities include the hosting of gatherings that strengthen the devotional character of the community; classes for children; groups that channel the energies of young people; and study circles where participants explore the application of spiritual teachings to their lives and develop skills to serve the community.
One delegate to the national convention expressed his belief that the desire shown by youth in North African countries in recent months to be protagonists in their own development was not limited to those nations.
"Young people in Spain also show that longing for change because they just don't see what the future holds for them," said Manuel Melgarejo from Toledo. "They also have that exact same yearning to transform society and influence their own collective destiny."
In its annual message for the Ridvan period, addressed to the Baha'is of the world and studied at all national conventions, the Universal House of Justice celebrated the fact that a longing to contribute to societal development, especially from the young, "is able to find such eloquent expression in the work the Baha'i community is carrying out to build capacity for effective action amongst the diverse populations of the planet."
Another delegate to the convention, Diana Jiménez – whose late father Antonio served as a member of Spain's first National Spiritual Assembly – remarked how the services of the early Spanish Baha'is were inspired by Baha'u'llah's vision for the development of a united, global society.
"It is my hope that this convention will likewise become a similar catalyst to enable the Baha'i community to share that vision with society to an even greater extent over the next 50 years," said Mrs. Jiménez.
11 new institutions
In addition to Spain, Baha'is have just elected their National Spiritual Assembly for the 50th time in Belgium, Denmark, Finland, Italy, Luxembourg, the Netherlands, Norway, Portugal, Sweden, and Switzerland.
At the 1962 convention in Spain, a Baha'i prayer book in Spanish was put on sale for the first time, with the approval of the governmental authorities.
Preparing Baha'i introductory literature was also an important early task for the first National Spiritual Assembly of the Baha'is of the Netherlands.
Gunter Vieten was a 32-year old journalist when he was elected to that institution. "We had nearly no printed material – maybe one or two pamphlets," he recalled. "The first Baha'i literature I received was such a simple piece of paper – the kind of thing I would never usually have looked at – that I was astonished that I was so taken by the content of it.
"I was born in Germany, so Dutch was not my first language. But, with the help of friends, we managed to write new materials. For years I participated in the writing, printing, distributing – it was a lot of organizing."
The anniversaries not only mark a milestone in the establishment of the Baha'i Faith in Europe, but the formation of those 11 assemblies in 1962 helped pave the way for the election the following year of the Universal House of Justice.
In April 1963, Gunter Vieten joined members of National Spiritual Assemblies from throughout the world to take part in that first international election.
"I don't know if I completely understood what I was part of and it is still difficult for me to really understand it," he said. "As a journalist, I used my eyes, I used my senses, but still it was something beyond my normal observation."