Trial of seven Baha'is in Iran scheduled for 18 October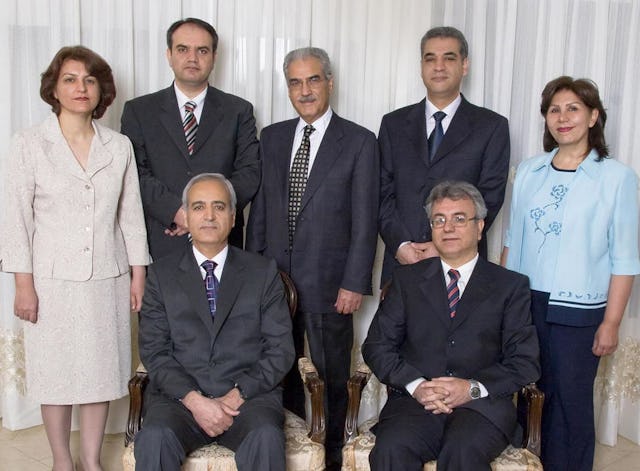 GENEVA, Switzerland — The trial of seven imprisoned Baha'i leaders in Iran is scheduled for Sunday. However, defense lawyers have not received the standard advance notification required under Iranian law.
"It is unclear whether the trial will take place on Sunday, or whether it will be postponed again," said Diane Ala'i, the Baha'i International Community representative to the United Nations in Geneva.
"If the trial does not go ahead, the seven Baha'is should be released on bail, as Iranian law requires," she said. "They are completely innocent of the accusations against them and should not have been imprisoned in the first place."
Ms. Ala'i explained that Iranian law requires that attorneys receive a writ of notification at least two business days before any trial takes place. She noted that Friday is not a business day in Iran, and since lawyers have not yet received the notice, it may be an indication that the trial will be delayed again.
The trial for the seven prisoners had originally been scheduled for 18 August. But on 17 August it was postponed to 18 October, after court officials agreed to requests from defense attorneys for more time to prepare, since they had not been given adequate access to the prisoners.
The seven are Mrs. Fariba Kamalabadi, Mr. Jamaloddin Khanjani, Mr. Afif Naeimi, Mr. Saeid Rezaie, Mrs. Mahvash Sabet, Mr. Behrouz Tavakkoli, and Mr. Vahid Tizfahm.
All but one of the group were arrested on 14 May 2008 at their homes in Tehran. Mrs. Sabet was arrested on 5 March 2008 while in Mashhad. They have been held in Tehran's Evin prison ever since, spending their first year there without formal charges or access to lawyers.
Official news agencies in Iran say the seven are accused of "espionage for Israel, insulting religious sanctities and propaganda against the Islamic Republic." They also reportedly face charges of "spreading corruption on earth."
"All of these accusations are absurd and baseless," said Ms. Ala'i. "Take, for example, the idea that they have been spying for Israel. That stems entirely from the fact that the religious and spiritual center of the Baha'i Faith is, through a fact of history, located in Haifa, Israel.
"Just as a Catholic archbishop is expected to communicate with the Vatican, so it is that these seven – with the knowledge of the Iranian government – communicated with their spiritual center, which happens to be in Israel. There is nothing wrong with that."