Jodhpur Lancers' "Haifa Day" commemorated at Baha'i House of Worship in India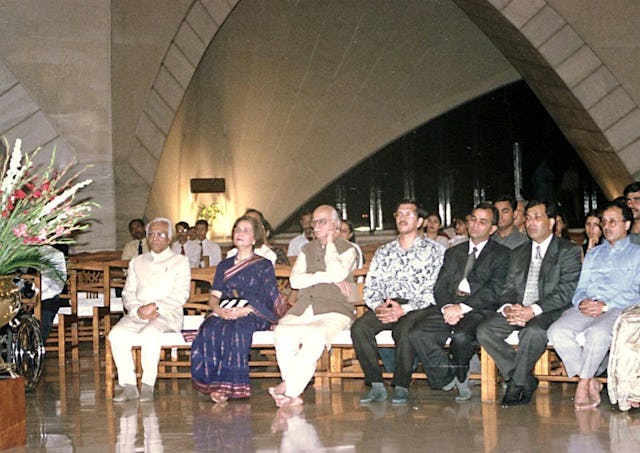 NEW DELHI — Every year on 23 September the Indian Army commemorates Haifa Day, when two Indian cavalry brigades fighting under British General Edmund Allenby during World War I helped liberate Haifa, Israel, from Turkish-German forces in 1918.
The courageous uphill assault by the Jodhpur Lancers, which took by surprise the German and Turkish artillery and machine gun emplacements on top of Mount Carmel, is also commemorated by the Haifa Monument that stands at one of New Delhi's busiest intersections.
This year, for the first time, a Haifa Day commemorative event was held at the Baha'i House of Worship in New Delhi, highlighting a little-known connection between the bravery of the Indian fighters and the early history of the Baha'i Faith.
One of the residents of Haifa in 1918 was 'Abdu'l-Baha, the son of the Founder of the Baha'i Faith and designated by Him as His successor. The commander of the Turkish forces in Syria and Palestine, Jamal Pasha, had threatened to crucify 'Abdu'l-Baha and destroy the Baha'i holy places in Haifa and nearby Acre. With the liberation of Haifa, the threat to 'Abdu'l-Baha's life was lifted.
This link between the Jodhpur Lancers and the life of 'Abdu'l-Baha first came to light in February 2000 when the architect of the Baha'i House of Worship, Fariborz Sahba, met with Union Minister for External Affairs, the Honorable Jaswant Singh. Mr. Singh's father was a member of the Jodhpur Lancers and fought under General Allenby.
The event on 23 September was attended by the Home Minister, Mr. L. K. Advani; the Union Minister for Disinvestments and Planning, Mr. Aroun Shourie; the Ambassador of Israel, Mr. David Aphek; the Deputy High Commissioner of the United Kingdom, Mr. T. McCann; the Ambassador of the European Commission, Mr. Caillouet; and other high-ranking army personnel, diplomats, and heads of nongovernmental organizations. The rulers of the princely states of Jodhpur, Mysore and Hyderabad, whose cavalries have now combined to form the Indian Army's 61st Cavalry, were also invited.
"The Jodhpur Lancers distinguished themselves with their equestrian and fighting skills and sheer courage ... and the day is a very important one in our annals," wrote the Maharaja Gajsingh of Jodhpur in response to the invitation. "The link between the Haifa Charge of 1918 and the life of 'Abdu'l-Baha is indeed interesting and adds a new dimension to the whole story of Haifa for us here at Jodhpur."
The evening program consisted of a choir service in the Prayer Hall of the House of Worship and a gathering on the illuminated lawn surrounding the temple. Zena Sorabjee, a member of the Asian Continental Board of Counselors, spoke about 'Abdu'l-Baha's life of service and the spirit of service embodied by the 61st Cavalry.