Convention delegates pray at holy places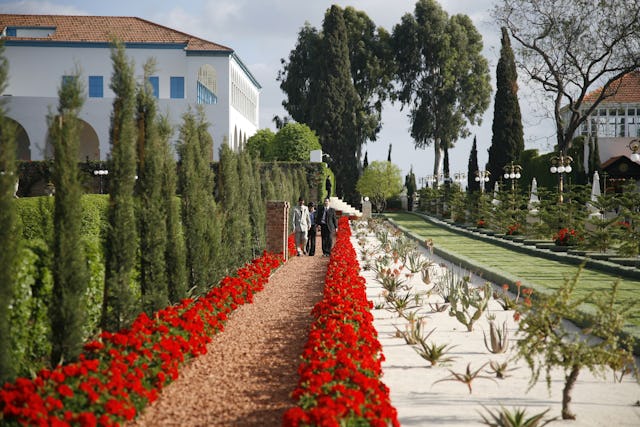 ACRE, Israel — Less than a kilometer outside this fortified medieval city in northern Israel is a whitewashed mansion, surrounded by elaborate gardens, known as Bahji.
For Bahá'ís, it is the holiest place on earth.
Beneath one of the buildings in the garden, the earthly remains of Bahá'u'lláh were laid to rest in 1892 – and today that structure is known as the Shrine of Bahá'u'lláh.
It is understandable, then, that delegates arriving from 153 countries for the 10th International Bahá'í Convention are streaming to Bahji as part of the process to prepare themselves for tomorrow's election of the Universal House of Justice, the supreme governing body of the Bahá'í Faith.
"We came out Saturday night, on the last bus, at 11 p.m." said Bahia Ettehadieh, 53, a delegate from Austria, "and it was amazing to see so many friends still here at midnight.
"They had come from the remotest places on earth, and many had been traveling for 24 hours or more, very tired, but they were so full of spirit and happiness," she said.
The Bahá'í writings offer explicit instructions about how Bahá'í elections are to be conducted – and the first and foremost prerequisite is that they be held in an atmosphere of prayer and reflection.
The 1,000 some delegates gathered here followed those instructions by visiting not only Bahji but many of the other Bahá'í holy sites in the Acre-Haifa area in northern Israel.
Deshon Fox of the Bahamas visited the House of Abbud in Acre Sunday morning. It was there, in 1873, that Bahá'u'lláh revealed the Kitab-i-Aqdas, "the Most Holy Book," which outlines the main principles and laws of the Bahá'í Faith.
"Ultimately, what Baha'is get out of the experience of going to these holy places is a centering," said Mr. Fox, a young civil engineer who like other delegates is a member of the National Spiritual Assembly of the Bahá'ís in his home nation.
"We all take away a little of that experience into the election process. It reminds us of the sacrifice others have gone through for the Faith," he said.
Polin Rafat of Norway was deeply moved after visiting the prison cell in Acre where Bahá'u'lláh was incarcerated for two years after His arrival in the holy land in 1868.
"Bahá'u'lláh suffered in that cell so that we could stand here today in this beauty and prepare to elect the House of Justice," said Ms. Rafat, referring to the beauty of the gardens at Bahji and elsewhere in the Acre-Haifa area that Bahá'ís have since adorned their holy places with.
For some of the delegates, it was their first time in the holy land – and they were overwhelmed.
"I was in seventh heaven," Agim Kotoni, 56, of Albania, said after his visit to Bahji. "I was looking so much forward to seeing something like this, and Bahá'u'lláh has fulfilled my wish."
For Mr. Kotoni and others, an added feature of the experience was visiting the shrines and holy places in the presence such a diversity of Bahá'ís from all parts of the world.
"The Bahá'ís in my city, it is like we are a family," said Mr. Kotoni, who is a police officer in Kabaja. "But now, here, I see that we are also a single family all over the world.
"Everyone you meet, it is not like I am meeting them for the first time – it's like I have known them for years," he said. "They offer so much love and respect and spirituality. I am uplifted and full of emotions."
Hilda Abelinti, 41, of Suriname, was likewise struck by the sense of community she felt with other Bahá'ís from around the globe.
"Every time I meet a new person, I believe more what Bahá'u'lláh says – that we are 'one people,'" she said.
"Everyone may speak a different language, but we all believe the same thing – we try to do what Bahá'u'lláh teaches – to live in unity and respect."
Tomorrow, delegates will assemble in the Haifa International Convention Center to cast votes for the nine members of the Universal House of Justice.
They will use a unique electoral process that does not allow campaigning and uses no nominations. Instead, each delegate will write down nine names – the names of those individuals who they feel are best qualified to guide the worldwide Bahá'í community for the next five years.