New Zealand Police support race unity initiative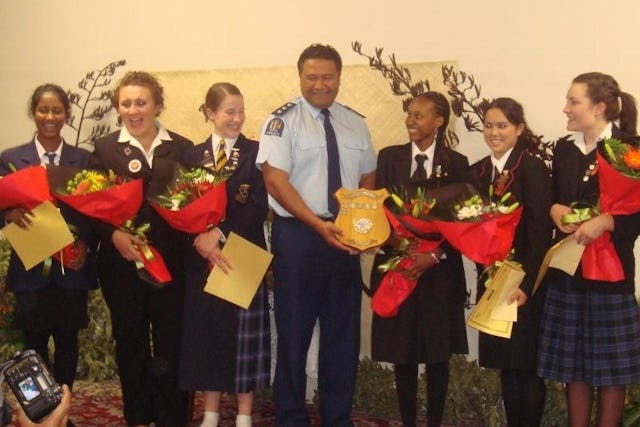 AUCKLAND, New Zealand — The New Zealand Police, a government department, has signed a formal funding agreement with the Baha'is for a speech contest for teenagers about race unity.
The Race Unity Speech Award, now in its eighth year, was established by Bahá'ís and already had received the support of the national Human Rights Commission. The nationwide contest is open to students in the last three years of high school.
The New Zealand Police has pledged NZ$50,000 (US$39,500) over a five-year period and also is supporting the competition in a variety of other ways at both the regional and national levels.
"The NZ Police is committed to reducing both the incidence and the effects of crime. We see this Baha'i initiative as a valuable tool to reducing crime through supporting youth to improve race relations," said Superintendent Pieri Munro, commander of the Wellington Police District.
The topic for this year's competition was "Finding Common Ground - He Rapunga Tahitanga," with presentations allowed in either English or Maori. Contestants were asked to comment on the following quotation: "We belong to an organic unit (the world) and when one part of the organism suffers, all the rest of the body will feel its consequences."
Students from throughout New Zealand compete in regional heats. This year, 17 contestants advanced to the national semifinals, and six to the finals, held 5 April at a national conference at the Bahá'í Community Center in Auckland City.
The winner was Charon Maseka from Taita College in Wellington, who shares the first-place prize money – NZ$1,500 (US$1,185) – with her school.
Funds from sponsors are used for prizes, travel costs for entrants competing in the finals, venue hire, and shields given to winners.
Dr. Rajen Prasad, former Race Relations Conciliator and currently Chief Families Commissioner for the government, led the six-member judging panel this year.
"I have been involved with the Race Unity Speech Award since its inception," Dr. Prasad said. "Quite apart from the quality of the entries and the confidence displayed by the young participants, this contest enables some serious examination of race relations by young people. They often come up with thoughtful analysis and many sound ideas for accepting and celebrating difference. In my view, this contest ought to receive widespread support, and every school should be encouraged to participate."
Here is the opening of the eight-minute speech given by this year's winner:
"Dear Racial Harassment:
"I am writing this letter to inform you that our relationship is officially done. You are no longer a citizen of my heart. For too long I have battled in my mind your voice versus humanity. You were everywhere with me, at the workshop, school, church, the hotel and even at the ballot box.
"What a deception! You made me hate color, so that I could spread your violence. You lived deep, deep, deep within me so that only ethnicity would rule. You're still so hot and heavy that everybody wants to ride in your Chevy, fully pumped, with hatred, inequality and cruelty. You've brought an avalanche of condemnation, a mockery against the struggle.
"So, here I am returning all of your gifts, and rejecting all your myths. I confess I am no longer impressed. Boom boom boom, this heart beats to the rhythm of humanity. So, in case you forgot, our relationship is officially done."
Besides Dr. Prasad, judges included representatives of the Human Rights Commission, the Speech Communications Association, and the New Zealand Police.