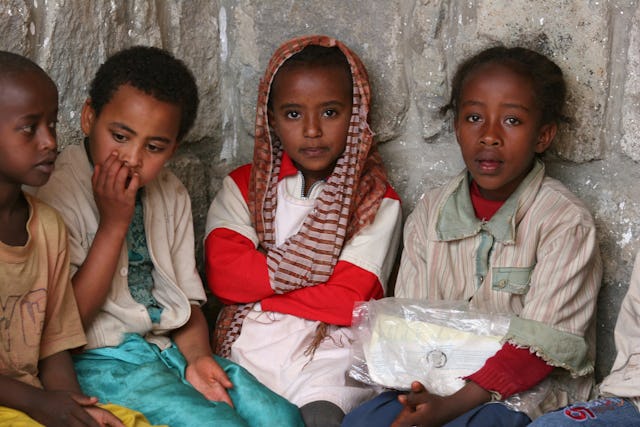 ADDIS ABABA, Ethiopia — Although the sub-city of Nefas Silk Lafto on the western edge of Addis Ababa is home to numerous foreign embassies and international development offices, it has its share of poverty and unemployment.
Most of the residents, if they have jobs at all, are manual laborers or domestic workers -- construction workers, cooks, maids, and clothes washers. HIV/AIDS is a challenge that has created many single- or no-parent families.
On most days, is not uncommon to find children working on the streets, helping provide the evening meal by polishing shoes, selling fruits and vegetables, or simply begging.
On Saturdays, however, the scene is somewhat different. Many of these same children can be found gathered at the home of a Baha'i family, attentively studying, among other things, the importance of common virtues like honesty, trustworthiness, and nobility of self.
Although the classes were started in March, just eight months ago, they now regularly draw more than 100 children each week. The Nefas Silk Lafto Baha'i community has organized the classes by age and manages them with the help of seven local Baha'i volunteers.
Parents say they are pleased with the Saturday offering.
"Ever since my child joined this class, I see some positive behavioral changes," said Ejigayehu Gemeda, a Nefas Silk Lafto mother whose child participates in the weekly class. "I have no doubt in my mind that my baby will completely change his life if this class continues and he gets more education."
The effort in Nefas Silk Lafto reflects part of a global initiative by the worldwide Baha'i community to offer local-level training for children in moral education and spiritual fundamentals.
According to the Baha'i International Community, there are more than 10,000 such children's classes taking place around the world, with more than 90,000 participants.
The Baha'i writings stress the importance of children's education, emphasizing especially the need for training in virtues and spirituality. Although adapted to local conditions and needs, Baha'i children's classes everywhere focus on moral education, aiming to provide something that is sometimes overlooked in secular education.
"Baha'i children's classes fill the academic gap," said Ahadu Abaineh, director of the Sabri Development Institute, which coordinates Baha'i children's classes in Ethiopia. "They enable children to develop their inner potentials of imagination, thinking, and creativity so as to become active agents of positive change once they reach the age of maturity."
In Ethiopia, there are about 45 such local children's classes being offered by Baha'i communities here, according to the Institute.
Of the 13 such classes currently being offered in Addis Ababa, three stand out as interesting examples, showcasing the grassroots approach undertaken by the Baha'i community in this effort -- as well as the positive reception given to the classes by the community at large.
Deep social needs
Like in Nefas Silk Lafto, classes in the localities of Kirkos and Yeka are similarly bounded by the difficult social problems that are endemic to this part of the world: poverty, under-education, and the ravages of HIV/AIDS.
Each community, as well, faces its own distinctive dynamic.
Kirkos, for example, is located in an urban area of Addis Ababa. Youth there are troubled by high levels of drug and alcohol abuse, pollution, and crowding as ever more rural youth migrate in search of jobs.
This was the setting for a children's class that started five years ago in 2002 by Lennie Ketsela, a Baha'i mother who wanted to start a class for the spiritual development of her two children.
"Kirkos is a difficult place to live," said Ms. Ketsela. "The population is very high. There is lots of unemployment. The living standard is very low. Most people here are day workers."
After starting small, the class grew rapidly as children found out about it.
"Six months after starting the class with two children we had about 12 children participating," said Ms. Ketsela, adding that it grew to around 100 participants after children told their friends about a Baha'i holy day celebration they participated in. The growth necessitated a move to larger facilities at the Fresh and Green Baha'i school, a primary school that is owned and operated by the Baha'i community of Ethiopia.
Parents say the classes in Kirkos have benefited their children, who might otherwise go without moral and spiritual education.
"I do not have time to be with my child because of my work," said Ms. Gelam Awol, a day laborer and the parent of one of the children in the Kirkos class. "I am a Muslim, so spiritual education is very important to me. It is good to see my child talk about the fear of God and say prayers. This is why I like these classes for my child."
Tayework Lemma, another parent, said her daughter is praying more often now. "She will say prayers when she wakes up, before she eats, when she goes to school," said Ms. Lemma. "She is also very worried about being clean now. Even the neighbors say that they have seen she has changed."
As the children have grown into youth, some have stayed on to volunteer to help the younger ones, evidence of the lasting effect of the classes. "They have understood what it means to serve," said Ms. Ketsela.
In Yeka, a district in the northern part of Addis Abba with roughly 300,000 to 400,000 residents, a new Baha'i class for children was started earlier this year and now has more than 80 participants.
"I noticed that there were a number of children in the neighborhood who did not have much to do," said Metkneh Getachew-Bagashaw, a Baha'i in the district. "So I decided to start a Baha'i children's class."
As with the class in Nefas Silk Lafto, parents here are already seeing changes in the behavior of their children.
"Really, really my children have changed," said Azed Badi, a mother of two children in this class. "Sometimes when I am tired and shouting they remind me that we must be kind to each other. It surprises me because this is a big change from the way things used to be."
Worketalu Mersa said her seven-year-old daughter began to cry one weekend when she learned she would not be able to attend the class.
"One weekend I took Nardos with me to my sister's house," said Ms. Mersa. "Then the child began to cry. My sister and I were confused because she used to love going to my sister's house. She said that she was crying because she didn't want to miss her class. She told us that she liked learning prayers and singing songs and she did not want to miss it. My sister said that it sounded important and she should not miss the class. So we came back to home."
Universal themes
Mr. Abaineh of the Sabri Development Institute said the virtues taught in the classes are universal in all religions. These include trust in God, unity, kindness, justice, love, service to humanity, truthfulness, trustworthiness, nobility of self, humility, honesty, use of courteous language, generosity, sociability and patience.
"These classes are kept alive with songs, games, arts, memorization, story telling and plays that the children with the help of their teachers write and perform," said Mr. Abaineh.
The classes are conducted in small groups in the homes of families who open their homes, often volunteering to teach themselves.
"One of the important elements of Baha'i children classes is that they are conducted on a purely voluntary basis," said Mr. Abaineh. "All children's class teachers are volunteers and these classes are done with much devotion and a sense of responsibility. This sense of service is something that distinguishes these classes in that hundreds of children learn while there is no teacher remuneration."
The classes in Nefas Silk Lafto provide a concrete example of this process at work.
Like Yeka and Kirkos, Nefas Silk Lafto is a hard place to live. Many of the children who participate in Baha'i children's classes here have lost either one or both parents to AIDS.
The classes are hosted at the home of Kurt and Marcia Henne, who moved to Nefas Silk Lafto in mid-2005 after Mr. Henne took a position as country director for Project Concern International, an international non-governmental organization focused on community health and sustainable development.
"Our two older children, 11 and 9 years old respectively, did not make friends quickly, because of the language barrier," said Mr. Henne, noting that no one in the family speaks Amharic. "For this reason, we started inviting neighborhood children to play football with our kids in our driveway.
"Before long there were easily 10 to 15 children running in and out of the house. My wife and I thought that this provided the perfect opportunity for us to start a Baha'i children's class and did," said Mr. Henne, who has been a Baha'i since 1987.
The class grew rapidly from its original size to between 50 to 100 children in a little over a month.
The Hennes turned to the Addis Ababa Baha'i community for help. They knew that Baha'i communities around the world had in recent years been focusing on children's classes.
Tewodros Sikru is one of the seven volunteers from the Addis Ababa Baha'i community that decided to help with these classes. He said that these classes grew because there was very little structured activity for children in these neighborhoods.
With the help of trained teachers like Mr. Sikru, who speaks the local language, the Saturday morning class has become increasingly popular. The number of children attending is now between 100 to 200 each week.
After seeing the positive development in the character of their children, some of the parents were invited to ask for more information. This led to parenting workshops.
"Their questions turned from those of what we were doing with their children to what they could be doing with their children," said Mr. Henne. "Most of these parents had children as children. This has meant that they were not prepared for the trials of parenthood."
Since the parenting workshops have begun, older children have also taken an interest in the activities.
"Now on Thursday evenings they have an arts program that they are involved in," said Mr. Henne.