Prerequisites for peace penned 100 years ago reverberate today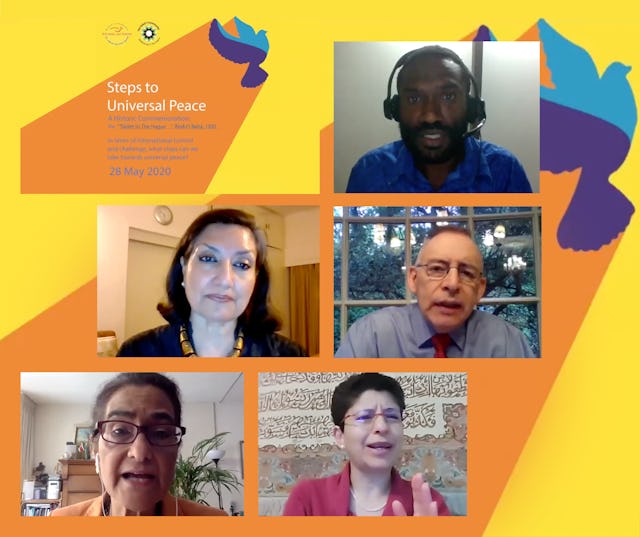 THE HAGUE, Netherlands — In the aftermath of World War I and the devastating 1918 flu pandemic, two Baha'is set out from the Holy Land in May 1920 to deliver a message written by 'Abdu'l-Baha to the Central Organization for a Durable Peace in The Hague. This message, referred to as the First Tablet to The Hague, explored principles required for profound societal transformation.
"This tablet continues to speak to us today," says Sherene Devid-Farag of the Dutch Baha'i community's Office of External Affairs. "It helps us see, point by point, the elements that are needed for a peaceful world, including the equality of women and men, the harmony of religion and science, the promotion of education, and the elimination of all forms of prejudice. These same principles inspire countless movements, organizations, and people in their efforts toward social justice today. What we need to realize across all these endeavors is that we are all companions on the same path toward peace."
The Baha'is of the Netherlands and Religions for Peace Netherlands co-hosted an online conference last Thursday, marking the 100th anniversary of the arrival of the tablet to its destination. The commemoration was originally planned to take place at the Peace Palace in The Hague but was later moved online due to the coronavirus outbreak.
Participants explored the themes from the First Tablet to The Hague in light of current circumstances.
"What 'Abdu'l-Baha was telling us is that faith is the light that eliminates the darkness of fear… What is needed is the deliberate commitment to come together as people of all faiths and take action [based] on our common principles," said Azza Karam, Secretary-General of Religions for Peace International.
Speaking on the theme of the oneness of humanity, Britt Bakker, vice-president of Religions for Peace Netherlands, said: "It is in these remarkable times that we are painfully, but at the same time beautifully, confronted with our… connectedness."
Awraham Soetendorp, a Jewish rabbi in The Hague, shared his hope that people might one day look back at this time as a crucial moment "when we found the wisdom and courage to truly cooperate beyond borders out of mutual trust, when we thus turned great peril into great promise and fashioned a new compassionate world order in which no one was left behind."
Marga Martens, Secretary of the Baha'i National Spiritual Assembly of the Netherlands, in reflecting on the event and the vision for peace presented in the tablet, says:
"The remedy to these ills are the principles elucidated by 'Abdu'l-Baha. We all have the choice to work toward them, both in our personal lives and as a society. Just as turning to the advice of a physician is essential when we are ill, it is the spiritual medicine of these principles that will help us go to the roots of society and create a beautiful change."