The transformative power of prayer: How devotional gatherings are taking root in Uganda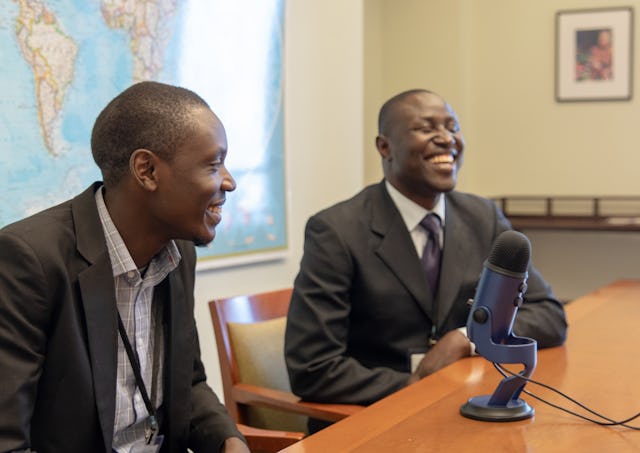 KAMULI DISTRICT, Uganda — Humanity has always relied on prayer as a source of guidance and connection with God.
In the latest episode of the Baha'i World News Service podcast, Charles Oloro and Michael Okiria from Uganda speak about how growing numbers of people are attending regular gatherings for collective prayer and experiencing its transformative power. Known as devotional gatherings, these spaces are open to all people in a community and free of ritual; no one person has a special role. The gatherings are also offering people in the community space to discuss their spiritual and material needs.
"We are seeing this new culture of friends coming together and turning to God to actually seek guidance for whatever is happening in their communities," Mr. Oloro says. "Any soul can come to this space and inhale these heavenly fragrances."
Mr. Okiria and Mr. Oloro spoke with the Baha'i World News Service when they were at the Baha'i World Centre as part of a consultation among representatives of eight localities around the world where a robust Baha'i educational and community building process is engaging thousands or tens of thousands of people. The two were representing a cluster of villages and towns in Uganda known as Kamuli South. At the heart of these community building efforts has been local populations building capacity to contribute to social change through applying fundamental Baha'i principles to their social reality.
"People are actually talking among themselves about the needs of the community and consulting together to try to find some solutions to the challenges their communities are facing," Mr. Okiria explains.
In February, the Universal House of Justice also published a compilation of Baha'i writings and guidance about prayer and devotional life, available on the Baha'i Reference Library.