Faith as catalyst of social change: Perspectives from the Congo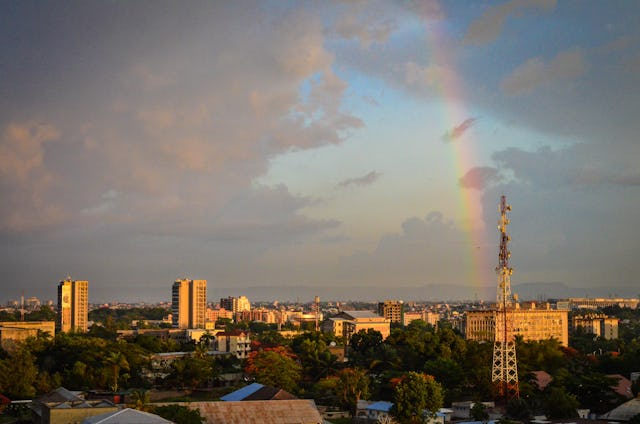 KINSHASA, Democratic Republic Of The Congo — When representatives of Christian, Muslim, and Baha'i communities first gathered at a Kinshasa juice shop in February, one question above all animated their conversation: How could they articulate to others the deep connection between religion and constructive social change?
That first informal discussion in the Congolese capital city has since evolved into a vibrant dialogue about the power of faith to unify people and give impetus to peace.
"We all had a common vision. We are convinced that religion is a source of unity, so let's not just talk about it. Let's take action," explained Rachel Kakudji, with the Democratic Republic of the Congo's Baha'i Office of External Affairs. One of the steps the nascent group undertook was to organize a day-long forum highlighting how spiritual principles and concepts impact many aspects of society, such as economics, governance, law, health, education, the media, and art.
For years, the Baha'is have been working alongside fellow religious communities in Kinshasa to give expression to this desire for unifying action. The recently formed interfaith group has been gathering regularly since its inception, calling its meetings the United in Diversity Social Space.
This collaboration is yielding many fruits. For instance, the group has already organized a day-long seminar last month and prepared a short documentary film, featuring interviews with leaders of different faith communities discussing the importance of their collaboration. They explore themes such as how sustainable development contributes to peace and how education can awaken a sense of duty and service, among other topics. Yet, Ms. Kakudji explains that beyond these specific initiatives has been the unfoldment of a process in which people of diverse belief systems are working together, consulting through challenges, and relying on the process of action, reflection, and consultation to make systematic progress.
Bringing together religious, academic, and student speakers, the recent seminar focused on a diverse range of topics, for example how economics can promote collective well-being, how good health is a dimension of a culture of unity, and how education is central to development. Leaders of the faith communities organizing the space spoke about the centrality of spiritual principles to social progress.
"To grow and develop, the world must draw strength from unity," explained Alex Kabeya, a member of Congo's Baha'i National Spiritual Assembly. "It is encouraging to see religious leaders and their believers work together in good will, because the process of transformation then reflects the sincerity necessary to contribute to sustainable peace."
Leaders of some of the faith communities involved, including several Christian groups and the Muslim community, also reflected later on the interreligious collaboration.
"In the holy Quran, unity is what God recommends to men. A true Muslim seeks peace with everyone," noted Moussa Chirala, the coordinator of the National Confederation of the Muslim Youth of Congo.
Willy Masaka, the national president of the Protestant Youth of Congo, emphasized how the principle of unity in diversity applies to work with all religions: "With this forum for peace, we want to open the voice of unity in diversity beyond ourselves with different religious denominations."
The seminar was preceded a week earlier by a march in downtown Kinshasa, attended by some 3,000 people. The participants ended their hour-long march at a stage where different presenters shared music and other artistic performances that touched on the importance of unity, caring for the environment, and other aims.
Ms. Kakudji said they plan to screen the documentary film in the coming weeks on a local television channel as well as with their partners in the United in Diversity gatherings.
Updated, 2 July 2019: The documentary was aired recently on local television. The 32-minute film can be seen on YouTube.