Overcoming prejudice through education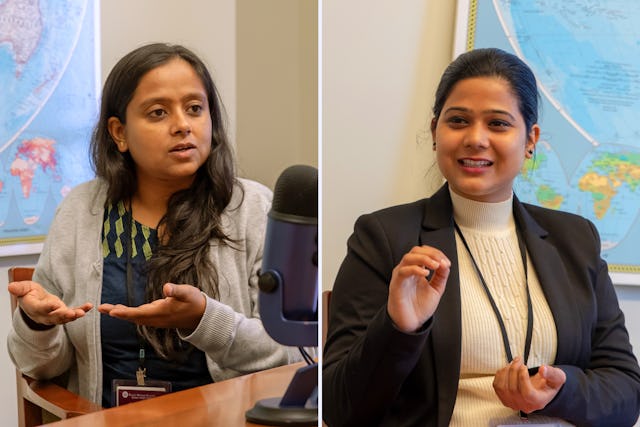 NEW DELHI — The latest episode of the Baha'i World News Service podcast explores how an educational process that seeks to release the potentialities of the human soul and mind can lead to profound social transformation, in this case overcoming long-held societal prejudices and superstitions about women.
Women in India are overcoming sentiments and prejudices that prevent their full participation in society. A group of young women in a large neighborhood of New Delhi, India, has been determined to help its community develop a different attitude toward women who are in their menstrual cycle.
Pooja Tiwari, who facilitates the group as part of the Preparation for Social Action (PSA) program, explains that women on their periods can be considered "impure" and are separated from aspects of community life. Though this cultural feature has no basis in reality—scientific or spiritual—it is entrenched in the consciousness of much of the local population. "While discussing this, a member of the group said, 'During these days, we cannot go to the temple. We cannot touch anything. We cannot sleep on the bed but have to sleep on the floor," explains Ms. Tiwari.
The group decided to organize an awareness campaign to promote an understanding of menstruation that is grounded in science and also rooted in spiritual belief.
After a study of the science behind the menstrual cycle, the group felt that it is critical to help people appreciate how a woman's period "is an important element for the birth of a human being." Ms. Tiwari explains, "The idea was brought up that during these days, we should respect women and that they require healthy and nutritious food."
PSA is a Baha'i-inspired program implemented in 17 countries in Africa, Asia, Latin America, and the Pacific. The program is organized to help young people develop a set of scientific and spiritual capabilities that enable them to become promoters of the well-being of their communities.
Ms. Tiwari is joined in the interview by Bhavna Anbarasan, a member of the Continental Board of Counsellors in Asia. Ms. Tiwari and Ms. Anbarasan spoke with the News Service in February when they were at the Baha'i World Centre. They were among a group of 30 people, representing eight localities around the world where a robust Baha'i educational and community building process is engaging thousands or tens of thousands of people. At the heart of these efforts has been local populations building capacity to bring about social change through the application of fundamental Baha'i principles—such as the oneness of humankind, the harmony of science and religion, and the equality of women and men—to their own social reality.
The stimulating conversations at this gathering are connected to the decades-long process in which Baha'i communities at all levels, from the grassroots to the global, have been creating spaces for sharing experiences and insights arising out of community building efforts. The gathering demonstrated how people around the world are contributing profound insights relevant to the future of humanity. It also showed that, rather than being confined to a privileged elite, the advancement of knowledge is a right and responsibility of every human being.