Baha'i International Development Organization board of directors meets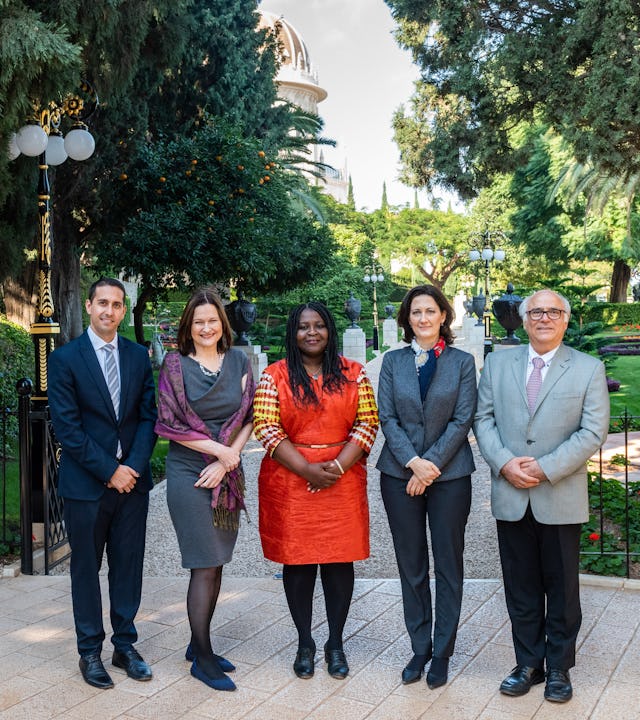 BAHA'I WORLD CENTRE — The board of directors of the Baha'i International Development Organization has convened for the first time. The establishment of the new institution was announced by the Universal House of Justice in its 9 November message to the Baha'is of the World.
A five-member board of directors, appointed in November for a five-year term, met at the Baha'i World Centre and began consulting on the Development Organization's aims and work.
Regarding the new institution's mandate, the House of Justice writes that its "primary purpose will be to facilitate learning about development by fostering and supporting action, reflection on action, study, consultation, the gathering and systematization of experience, conceptualization, and training—all carried out in the light of the Teachings of the Faith."
Rapid advances in Baha'i communities have helped make possible the establishment of the Development Organization, representing a new stage in the work of social and economic development in the Baha'i world.
Since the Faith's early years, Baha'is have striven to apply Baha'u'llah's teachings to improve the material and spiritual aspects of their societies. In 1983, the House of Justice created the Office of Social and Economic Development (OSED) to assist it in promoting and coordinating the Baha'i community's social and economic development efforts. OSED has now evolved into the Baha'i International Development Organization.
Over 35 years, Baha'i endeavors in this field have strengthened markedly, and a framework for social action has taken shape. Worldwide, there are scores of nongovernmental Baha'i-inspired social and economic development organizations as well as tens of thousands of development activities and projects undertaken by Baha'is and other collaborators. These efforts fall along a spectrum of complexity and address an array of challenges in areas related to education, literacy, health, the environment, support for refugees, the advancement of women, empowerment of junior youth, elimination of racial prejudice, agriculture, local economies, and village development. The Development Organization will carry forward this work on an expanding scale and at higher levels of complexity.
The board of directors will draw on the newly inaugurated Baha'i Development Fund, to which Baha'is may contribute, to assist both long-standing and emerging development efforts worldwide.
The 9 November message announcing the Development Organization's establishment coincided with the 199th anniversary of the birth of the Bab. The House of Justice announced the establishment of OSED 35 years earlier, also on the anniversary of the Bab's birth.